Jupiter-9 New Applications .
By Luiz Paracampo
Specially for USSRPhoto.com
I
Presentation:
<![if !vml]>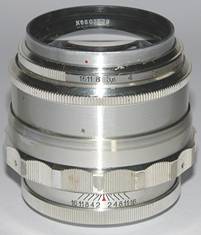 <![endif]> <![if !vml]>
<![endif]>
Two variations of Jupiter-9 for Zenit cameras
<![if !vml]><![endif]>

MC Jupiter-9 2/85 (Zenit) Lens Specifications:
Focal length,mm

85

Maximum aperture

f2

Angle of view,deg.

28,5

Focusing range,m

0,8 - inf

Aperture range

1:2 - 1:16

Working distance,mm

45,5

Type of camera mount

M42 x 1

Attachment mount thread

M49 x 0,75

Resolution, mm-1, min.:
- in centre
- off centre


33
18

Light-transmission factor

0,85

Light-diffusion factor

0,05

Overall dimensions (with covers) ,mm

Diam. 66 x 72

Mass (less carrying case), kg

0,380
<![if !vml]>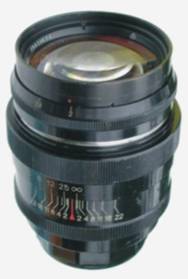 <![endif]> <![if !vml]>
<![endif]>
Two Jupiter-99 construction types for Zorki (at left) and Kiev (at right)
<![if !vml]>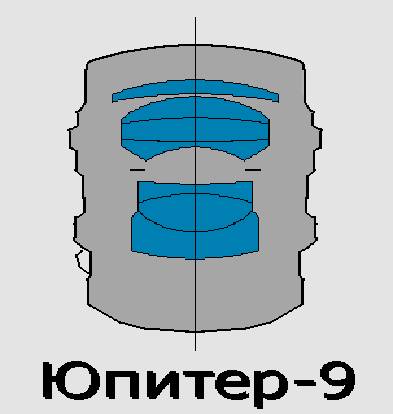 <![endif]> <![if !vml]>
<![endif]>
Cut schematics comparison between Jupiter-9 and Sonnar f2/85mm
II
Description:
The objective Jupiter 9 is a classified optics as "High aperture half telephoto lens ". It was essencially developed for face and bust pictures 35mm cameras such as Zorki, Kiev and Zenit. Has its heritage from the Sonnar originally conceived for the Contax. Its focal distance is 85mm with an aperture f2. This lens was commercially available in 1932 and was the first high aperture tele for 35mm just before the spread out of the low cost "Elmar 90" for Leicas. This lens gathered the large technological amount of Ernemann and Zeiss in order to built a large aperture compact lens that most faithfully reproduce the binocular human vision with smallest perspective distortion. This optics is a triplet based, with seven elements, developed from the famous Ernostar 1,8. Originally calculated by Ludwig Bertele in 1926 as Sonnar, made its second life as Jupiter-9 in 1950 after a recalculation at (КМЗ) –by M.D.Maltsev.
When considering itself the harmonic media that conduct all the Natural Laws, 85mm was chosen as the ideal focal distance because its value isl next to the double of the square shaped root of the addition of the squares of the lateral dimensions of the pictures of 35mm.
Therefore: <![if !vml]>

<![endif]>
The peculiar advantage found in this focal length is that together a 35mm camera, it approaches the binocular vision perspective, rendering the utmost of natural and agreeable image pictures.
I-I General details
In the following pictures technical data from KMZ on J-9 in the two variants Kiev mount and Zorki mount
<![if !vml]>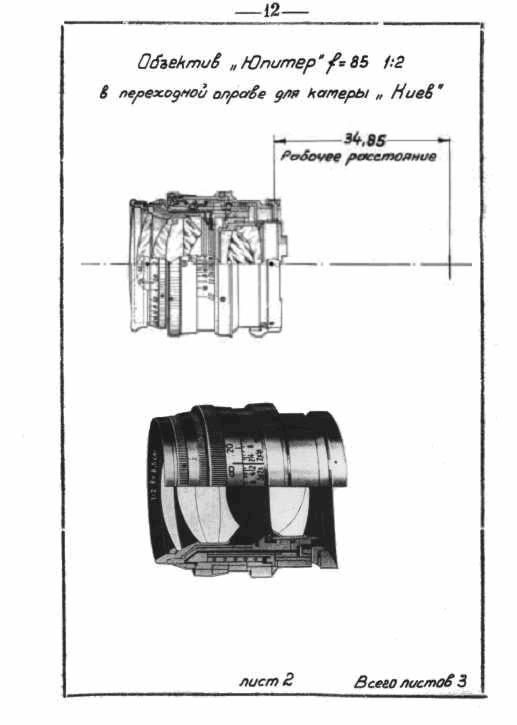 <![endif]>
J-9 Kiev mount
<![if !vml]>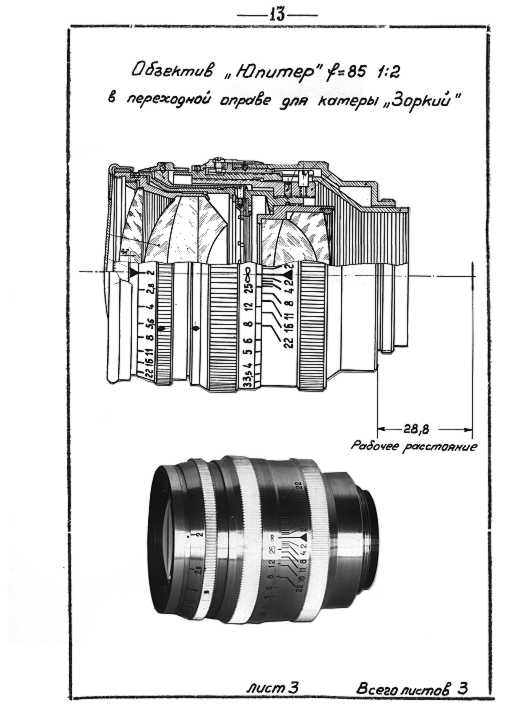 <![endif]>
J-9 in Zorki mount
Classification:
Long focus highly luminous objective for rangefinder and reflex cameras. Inner iris diaphragm with 15 petals. Originally had the name "ЗК-85" ("ZK-85") - Зоннар Красногорский, 85 mm with variants for "Kiev" and "Zorki " rangefinder cameras. Design and technological documentation based on objectives "Sonnar" from German firm Carl Zeiss. Equipment for manufacture have been put on Krasnogorsk factory on account of reparations after the end of the Second World War. In 1950 the original design has been altered for use with reflex cameras. These lenses were also produced in Lytkarino (ЛЗОС) and at "Arsenal" (Kiev, Ukraine). Recent ones are made with multilayer coatings.
Optical geometry:
Focal length of 85 mm (84,46 mm), relative aperture 1:2. Angle of vision 28º (on other data 29º)
Physical data:
Back length to film plane 40,71 mm.
Distance from first up to last surface 54,35 mm. (Inter-Vertex)
Quantity of lenses/groups - 7/3.
Working distance: Zorki=28,8 mm; Kiev= 34,85 mm; Zenit M39=45,2 mm; Zenit M42=45,5 mm.
Quantity of diaphragm petals - 15.
Limits of diaphragm scale 1:2 - 1:22.
Near limit of focusing: rangefinder variant - 1,15 m, reflex variant - 0,8 m.
Mounts for reflex cameras: M39x1, M42x1; bayonet mount Kiev 10 and Kiev 15.
For screw-in filters and accessories СпM49x0,5; - diameter of slip-on filters and accessories 51 mm
Resolution (center/edge): 30/18 lines/mm, transparency factor - 0,75.
Overall dimensions: length of the objective on infinity, with covers:
rangefinder variant - 80 mm; reflex variant - 65 mm.
Greatest diameter of coverage: rangefinder variant - 60 mm ; variant for reflex cameras - 68 mm
Weight: rangefinder variant - 335 g ; reflex camera variant - 400 g
Tecnical data sources:
www.zenitcamera.com/archive/lenses/jupiter-9.html
and
http://www.photohistory.ru/35mm-TeleLens.html
III
Technical data:
In practical uses, the large glass surface of Jupiter-9 are prone to catch external reflections and unwanted rays tend to create internal reflections that reduce its contrast,. A sunshade is a must. Common sunshades are not specifically made for this kind of lens, that way we suggest a sunshade like the drawing, which was painstakingly studied and propitiates the best results. Its shape eliminates all light rays which are nor used for the image formation.
<![if !vml]>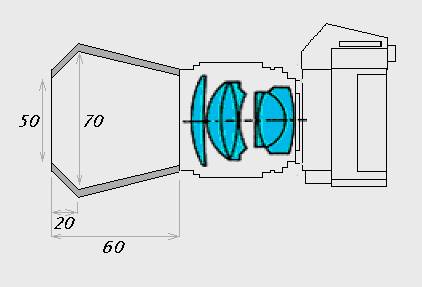 <![endif]>
Sunshade proposal for complete blocking of unwanted light rays
As previously said, Jupiter 9 optics is a developed triplet. It is a seven elements construction with three groups. The front element is a simple meniscus. In the negative central group there are three elements and also three elements in the back positive optical block.
Having on mind the idea of a physically short lens, without compromising the covering of the picture frame, the biggest dioptrics weight had been placed in the central and back groups of lenses. The internal spaces had been eliminated gluing the elements, this procedure also minimizes the internal reflections and loss of contrast. Such construction requires an ample frontal element collecting light that although fulfilling the good optics performance, it becomes prone to flare also being a multicoated lens.
The following picture shows the standard positioning of Jupiter-9 in normal use.
We will only describe Jupiter-9 uses together Zenit or similar cameras.
<![if !vml]>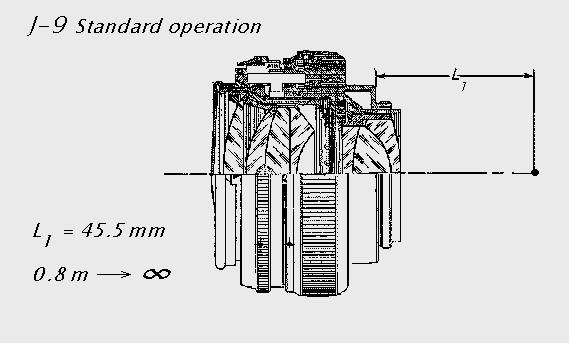 <![endif]>
Zenit Jupiter-9 standard construction
(The right side vertical line represents the focal plane at infinity position)
IV
Exploring properties:
The main advantages offered by this optics are: Its increased focal length that favors the picture taking of a subject in a larger distance normally used by a normal lens, and the possibility of reversing the unit when used optics in bigger picture ratio or Macro photo.
Our first proposal is to get the Maximum profit of such optics of so good project when used normally. For this, we developed described sunshade.
Now we will propose another very simple trick. Use the Jupiter-9 as a high quality 3X loupe and as in the previous Helios 44 article also as a microscope. Tables in the article.
Reversing the lens was a recommendation done by several manufacturers when operating in macrophoto . In the pictures you will see the various uses and properties of Jupiter-9 lens.
<![if !vml]>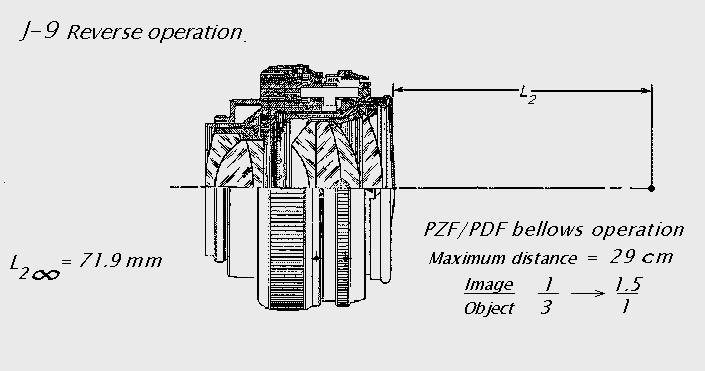 <![endif]>
Zenit Jupiter-9 in reverse position
(The right side vertical line represents the focal plane at infinity position)
Lens register at reverse position: 71.9 mm
(In reversed position there is a freedom increase of 26.4 mm to the focal plane without reduction of the largest aperture)
(Macro range when operated in conjunction wit PDF or PZF bellows from 1/3 to 1.5X)
<![if !vml]>
<![endif]>
Zenit Jupiter-9 in reverse position plus infinitar lens
(Equivalent focal length =121mm ; New opening aperture = 2.8)
Lens register at reverse position plus Infinitar lens: 91.0 mm
(The right side vertical line represents the focal plane at infinity position)
(Macro range when operated in conjunction wit PDF or PZF bellows from infinity to 1/2.5)
The reversed Jupiter-9 lens could also be used with extension tubes. Two sets are recommended once the lens needs a #3 extender permanently attached.
Here we have a table with the various combinations.
UTZ set consists of three rings (1=7mm, 2=14mm, 3=21mm)
Here are used two sets of tubes once the tube #3 is permanently needed to focus the reversed Jupiter-9 lens.
| | | |
| --- | --- | --- |
| Distance from subject to film plane in cm | Image Scale | No. of ring in use |
| Jupiter-9 2/85 | With rever | ser ring* |
| 1250.60 | 1/23.25 | 3 |
| 720.75 | 1/11.36 | 3+1 |
| 530.29 | 1/7.09 | 3+2 |
| 480.23 | 1/5.34 | 3+2+1 |
| 420.48 | 1/4.29 | 3+2+1+1 |
| 395.35 | 1/3.57 | 3+2+1+2 |
| 360.30 | 1/2.85 | 3+2+1+1+2 |
| 350.28 | 1/2.48 | 3+2+1+3 |
| 350.06 | 1/2.06 | 3+2+1+3+1 |
| 345.75 | 1/2.00 | 3+2+1+3+2 |
| 330.60 | 1/1.72 | 3+2+1+3+2+1 |
* additional 4mm length
Tube and bellows mount
<![if !vml]>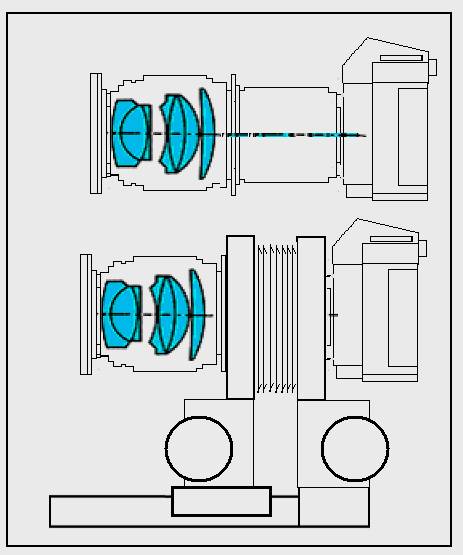 <![endif]>
Júpiter-9- Can be used in reversed way with UTZ tubes or bellows
Bellows mounting
<![if !vml]>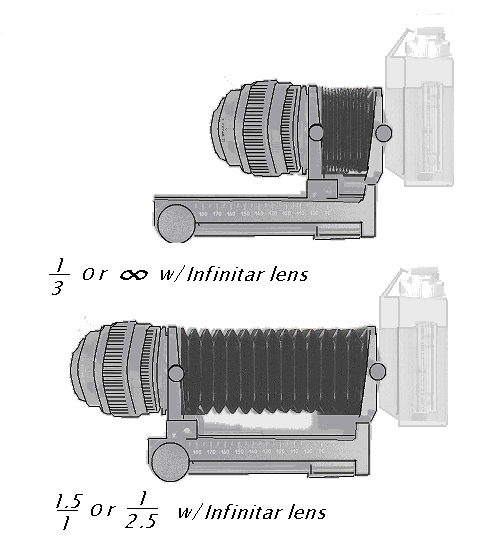 <![endif]>
Jupiter-9 in reverse position with camera and bellows
(Mounting requires reverse ring coupler)n
V
Addenda
a) J-9 as loupe and microscope:
A very simple combination. In the table , possible reductions and enlargements together the various Zenit lenses.
<![if !vml]>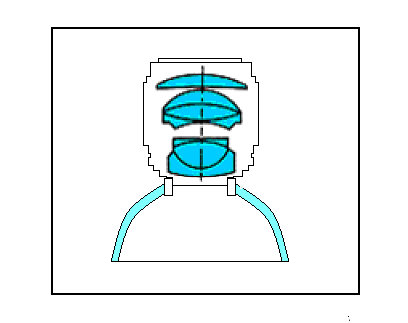 <![endif]>
Jupiter-9 – Used as a 3X wide field high correction loupe.


<![if !vml]>
<![endif]>
Jupiter-9 as a microscope:
Enlargements obtained with various lens combinations
(Camera lens combination over the J-9 loupe and dome)
(See schematics above)
| | |
| --- | --- |
| Lens | Enlarging |
| Helios-44 | 0.68X |
| Industar-61 | 0.58X |
| Jupiter-9 | 1X |
| Jupiter-37 | 1.58X |
| Jupiter-21 | 2,35X |
b) Reverser ring:
<![if !vml]>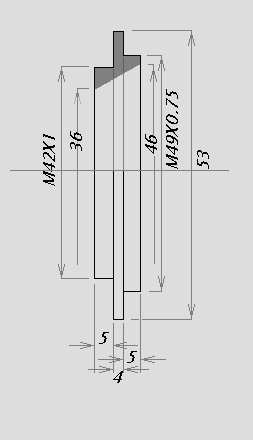 <![endif]>
Reverser ring applied for coupling J-9 in reversed position. (Detailed dimensions)
c) Extension tubes:
<![if !vml]>
<![endif]>
UTZ or UTZ/T normal extension tubes (dimensions)
d) Infinitar:
<![if !vml]>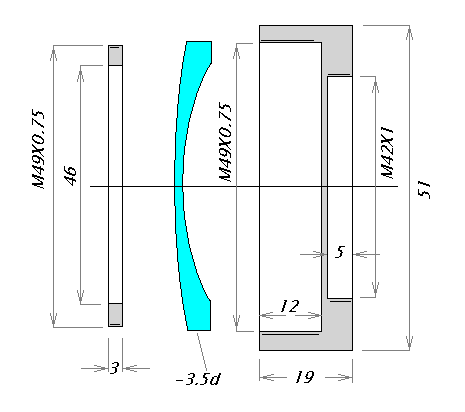 <![endif]>
Infinitar lens – Detailed construction