Sociedad Ibero-Americana de la Historia de la Fotografia Museo Fotográfico y Archivo Historico "Adolfo Alexander"
Fórum Yahoo [maquinas russas]
GXN Handkamera Hk 12.5/7x9
Aerial camera for the German air force (Luftwaffe), for 7x9cm on rollfilm, body painted grey, Schneider Kreuznach Xenon 2/12.5cm no.45317, complete outfit including cap, filter, original instructions, wooden box and military contract numbers (Fl 38004)
<![if !vml]>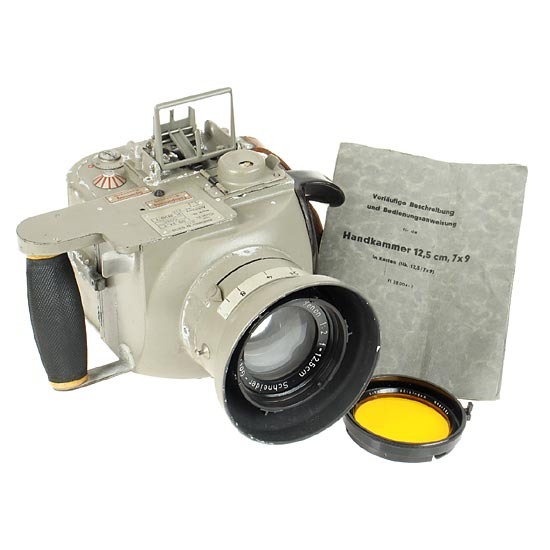 <![endif]>
Partial Comment :
From: Marc James Small msmall@roanoke.infi.net
Date: Fri, 30 Jul 1999
To: hasselblad@kelvin.net
Subject: Origin of the Arsenal Plant: Long!
In the '50's, the Arsenal Plant in the Ukraine and the KMZ plant in Moscow began to produce a variety of designs which would eventually consolidate into the Kiev 88. There are some significant improvements in the Soviet design over the Swedish original but this lad, in any event, believes it to have been an outright theft, though perhaps a damnum absque iniuria, as Hasselblad had by then abandoned the design.
Bob Shell repeats the Party Line, that the Kiev 88 is an outgrowth of design work emenating from the "Handkammer Hk 12.5/7x9", a product of the Fritz Volk concern in Berlin during the early war years. (This was an aerial recon camera produced for the Luftwaffe; it was equipped, I have just delightedly discovered from an exemplar which was captured on a Japanese recon plane in New Guinea in 1944 -- and just HOW did this camera get THERE at THAT time? -- with an ISCO ("Ioseph Schneider Company Goettingen") lens, though most sources credit the camera with a JSK lens. ISCO is a subsidiary of JSK – ("Joseph Schneider Kreuznach".) Germany became concerned over the supply of military cameras and asked Hasselblad, in neutral Sweden, to consider the production of the Volk camera in case the German plants were destroyed by bombing. This camera was the basis for the later 1600F. The Soviets contended that the designs and tooling for the Volk Handkammer were seized by them in '45 and that they independently developed the '88 from the same roots whence sprang the 1600F/1000F.
Click your browser on

, or go back via internet to the main Oddity page, then select the next desired camera to view.