Sociedad Ibero-Americana de la Historia de la Fotografia Museo Fotográfico y Archivo Historico "Adolfo Alexander"
Fórum Yahoo [maquinas russas]

»Pankopta«
The Gorgeous Panoramic from MeOpta
One of the few and very rare existing Pankopta panorama cameras. Three 55x235mm pictures are taken on 120 rollfilm, Pivoting Belar 4,5/105, 135º view angle. Bubble level, 1/5, 1/10, 1/25, 1/50 and 1/100 speeds. 4.5, 5.6, 8, 11 and 16 diaphragm stops, wire frame finder, handles for steady picture, green leather cover finishing. Production years 1961 to 1965.
<![if !vml]>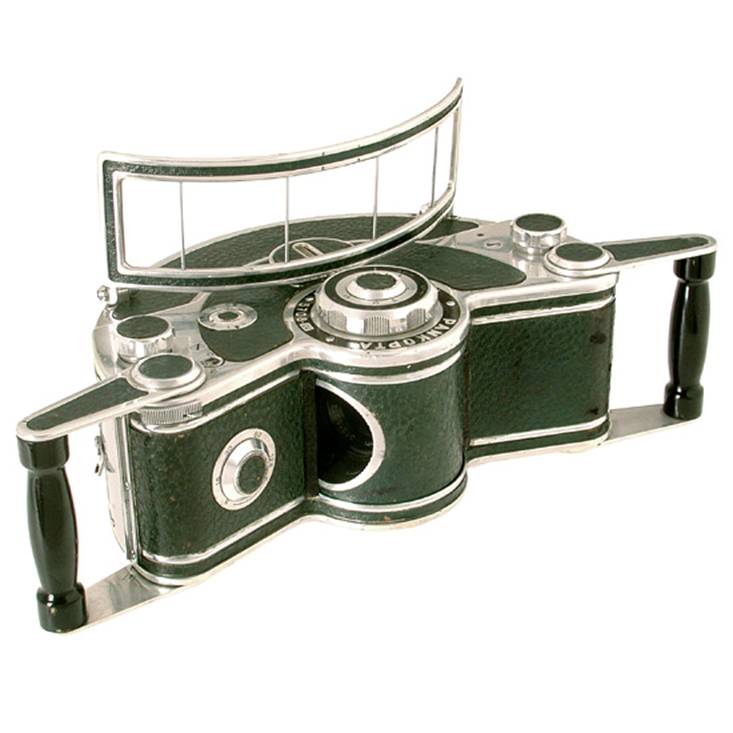 <![endif]>
Commercial model
<![if !vml]>
<![endif]>
Prototype from Meopta
Click your browser on

, or go back via internet to the main Oddity page, then select the next desired camera to view.