<![if !vml]>

<![endif]>
Here is an image of a guy's Mudan (Peony)TLR collection. I am surprised that there are so many versions of Mudan alone. I think there are a few dozens Chinese TLR brands.

Cheers,

Zhang
<![if !vml]>
<![endif]>
<![if !vml]>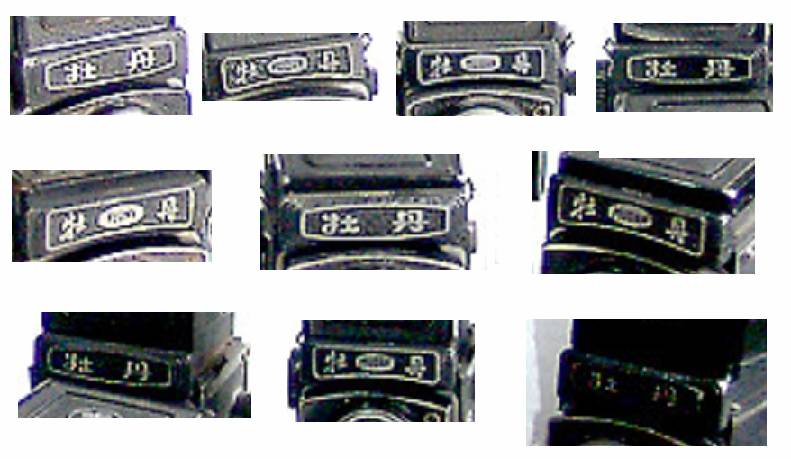 <![endif]>
At least 10 plate logo variations.
NOS Red Flag S-16 movie câmera
---
A mint example of this camera surfaced recently. Maybe only a few hundred cameras were made. It is a high quality 16mm cine camera in C mount. The camera is not mine. I post these clear image FYI.

Cheers,

Zhang
<![if !vml]>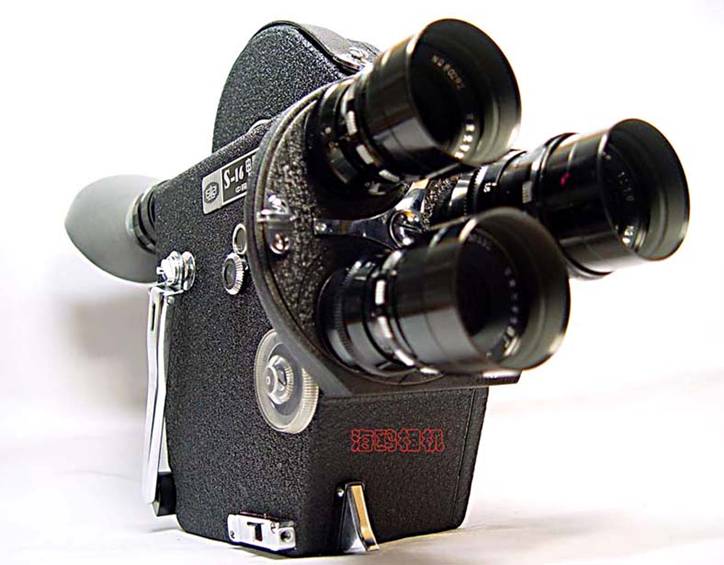 <![endif]>
<![if !vml]>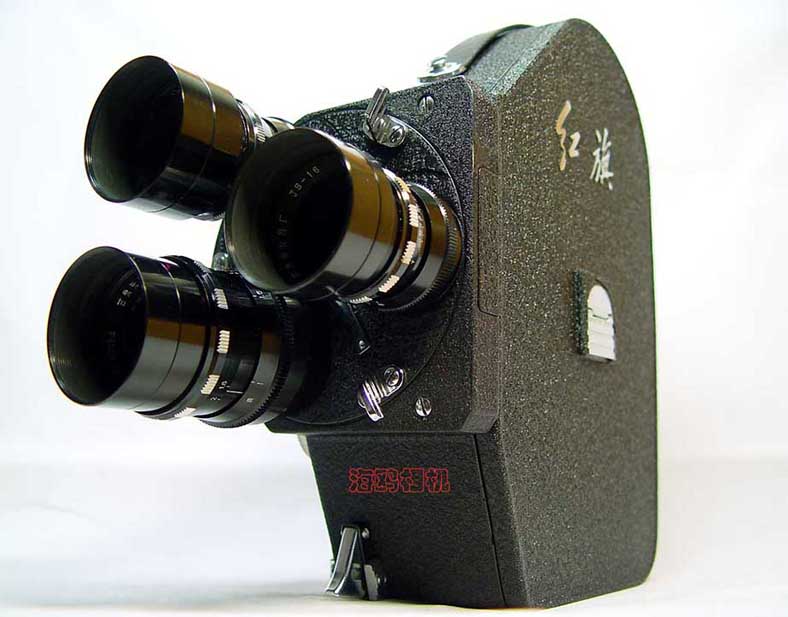 <![endif]>
你好张同志:

I think the variations in the way which "牡丹" (Mudan) is written would merit collecting each version, even if the design and functions are exactly the same.

Jay
Comrade Jay, NIHAO!

I think those Chinese logos alone make these tlrs unique collectable items, plus these are very good cameras for B/W images for their big frame. Mudan also has single format cameras like those Seagull 4A, and with Tessar type taking lens and a rare TLR with a buit-in meter. 牡丹alone has enough variations for a collector.

Cheers,

Zhang
Those accessory lenses for Pearl River S-201 are also being collected. These are less often seen than cameras. There are 28/2.8,35/2.3,135/2.8 and a zoom 80-200/4.5 lenses made for S-201. These are solid pieces of glass and metal. Even the hand grip are made of metal
<![if !vml]>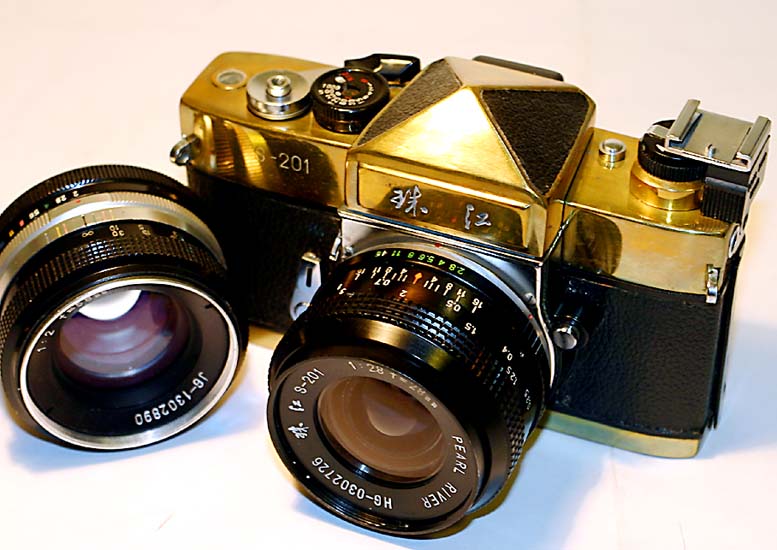 <![endif]>
Have you ever seen this 120 panaroma camera before? It is the Widepan WP-617-A; a 5.6x17cm format using 120 film. It is made by Phenix in Jiangxi.

Zhang
<![if !vml]>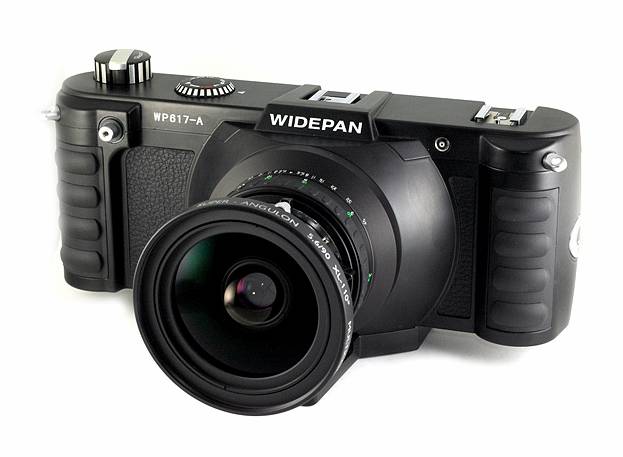 <![endif]>
<![if !vml]>
<![endif]>
The camera body alone cost a bit more than RMB 10,000! Just too rich for me.
<![if !vml]>

<![endif]>
This one is a swinging lens Widepan ProII 140 made by the same manufacturer it has 50x 112 frame format and covers 140°.
Can also use 35mm film
<![if !vml]>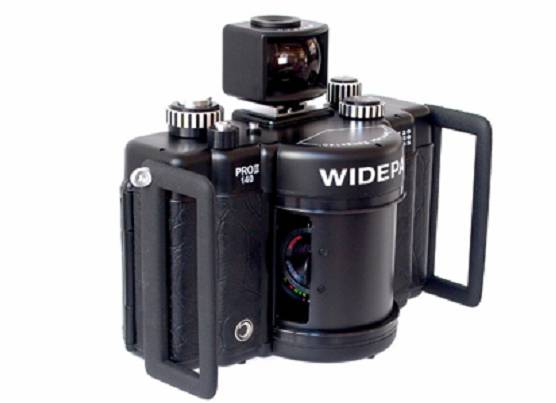 <![endif]>
<![if !vml]>
<![endif]>
This one rivals the price! Also too rich for me.
<![if !vml]>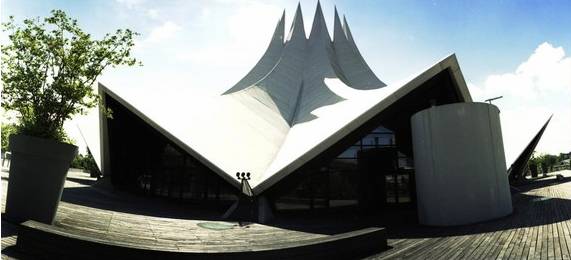 <![endif]>
<![if !vml]>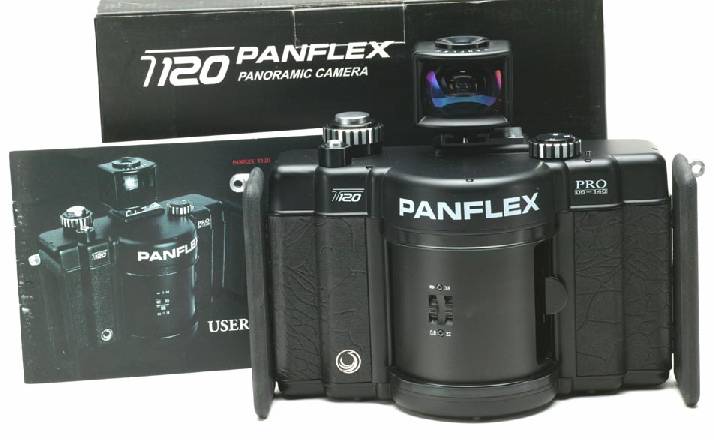 <![endif]>
And this is the Panflex. Exactly the same camera without 35mm ability.
Hi, Will,
<![if !supportLineBreakNewLine]>
<![endif]>
Do you want the Huaguang(华光) "IS11" 210/4.5 barrel lens? I have one and I think I saw some before. They are not very rare IMO and cost only 200-400 RMB. This lens has a resolution of 250 LP/mm wide open according to the instruction. How could that be possible? It is good for 13X18cm sheet film.

Zhang
A new book for Chinese cameras!
---
Hi all,

Just spotted a new book for vintage Chinese cameras recently published. But only 500 copies were printed and they are not for sale. I will try to get a copy. It is a 360 pages book with a lot of interesting and rare cameras. It was written by a Mr. Zhuang who is 60 years old. I hope to get in touch with him, and hope that future edition will be published with photos of some of my collection I posted in this thread included.

Cheers,

Zhang
<![if !vml]>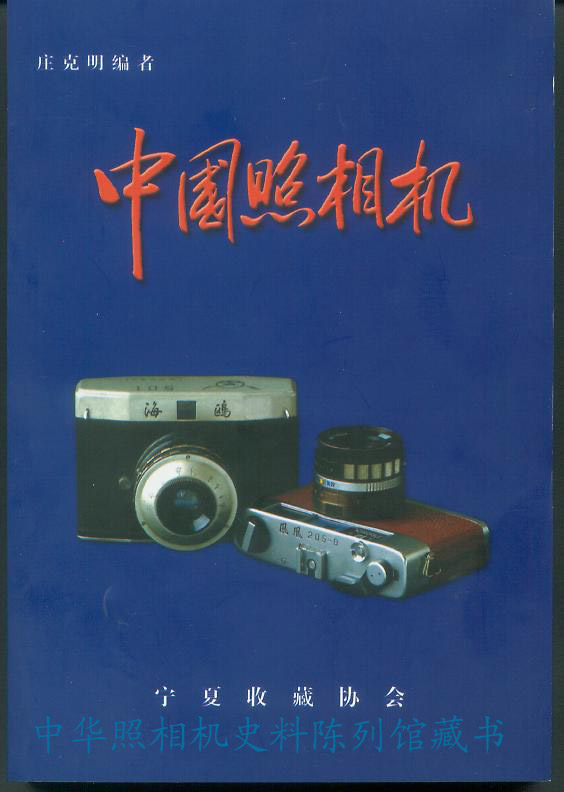 <![endif]>
I think that SX16K is still in manufacture by Qinhuangdao Audio-Visual Machinery Research Institute. Very nice camera, but only 60m magazines! It should not be expected from a high speed camera (144fps)...
<![if !vml]>
<![endif]>
Thank you for clear pictures of S-16. If you have more clear pictures of Chinese cine equipment, I'd be delighted to download them...
I like this camera! This camera were made by Gansu Optical Instrument Factory.
Hi,

I know it is still being produced. Only 60 some cameras were made over the years. I bought the camera for curiosity. But I think it is not a cheap camera when new. It should be more expensive than the Red Flag 20,and the Red Flag S16 cine camera.
Occasionally, I saw some China made adaptors for using 35 mm still camera lenses on C mount S16 cameras.
<![if !vml]>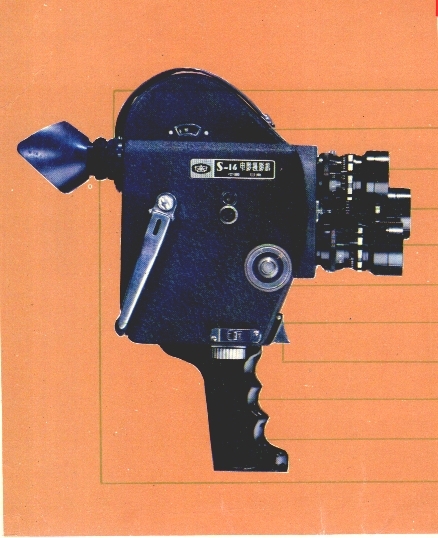 <![endif]> <![if !vml]>
<![endif]>
Just to tell you that I always read you and that I always search for some small Chinese rangefinder...
My last Eastar S3S, Seagull 205 and KJ1S
Cheers
JP
<![if !vml]>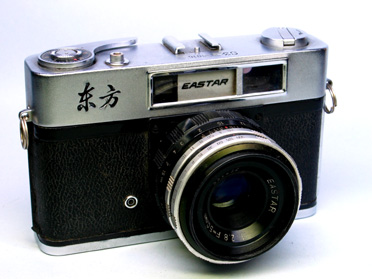 <![endif]> <![if !vml]>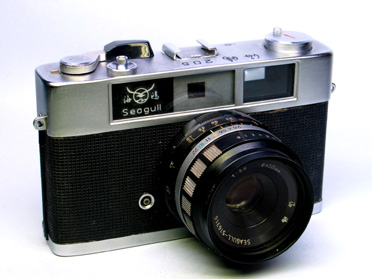 <![endif]>
<![if !vml]>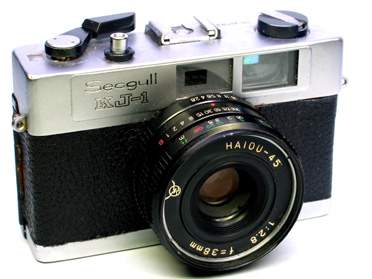 <![endif]>
Zhujiang 35/2.3
Hi,

Guess I should let you know that I do have a Chinese optic gem-the famous Zhujiang 35/2.3 lens. It won many medals at various occasions for its high quality. So don't miss it if you saw one for sale at below $50. It focus from 0.3m. This is a lens made by Hongguang (Red Light) Camera Factory that was a military equipment maker. The hand grip pattern indicates that it is an early lens.

Many people said it is the best lens of the Zhujiang primes.

Cheers,

Zhang
<![if !vml]>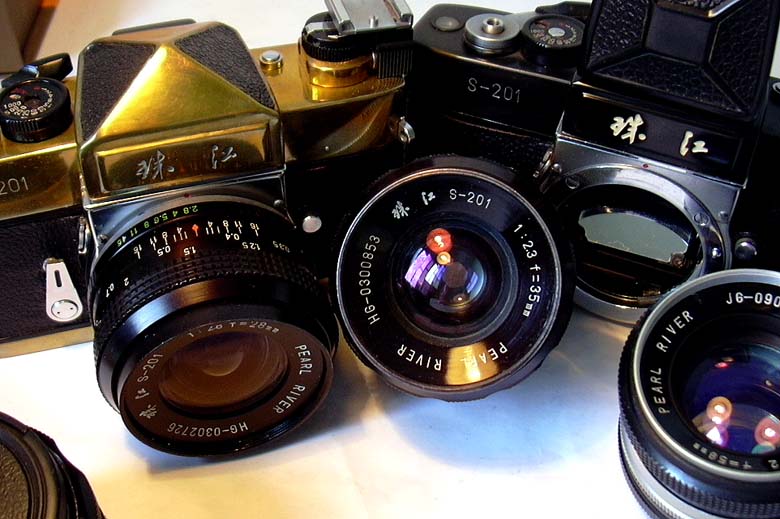 <![endif]>
Here some low cost cameras from the beginning of the Chinese camera industry: Chiangjiang with two different logos and Huashan. Also is shown the different logos on camera backs. These are copies of the Russian Smena.
In the previous page it was shown a Chiangjiang 200mm 1:2 lens from the same factory with the same logo shown in the first picture.
<![if !vml]>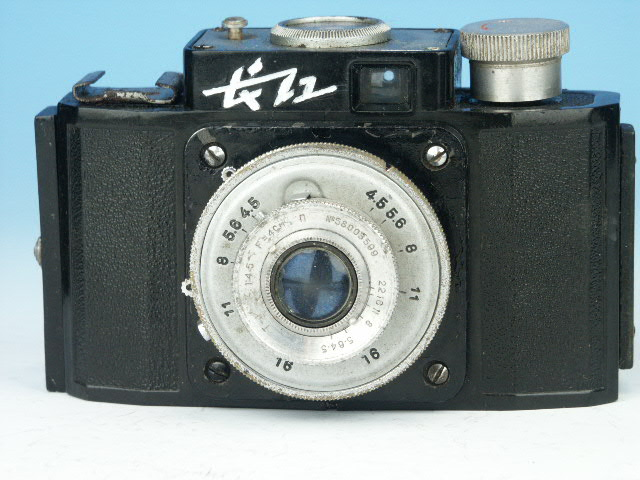 <![endif]>
<![if !vml]>
<![endif]>
Chiangjiang with old logo
<![if !vml]>
<![endif]>
Hua Shan
<![if !vml]>
<![endif]>
<![if !vml]>
<![endif]>
<![if !vml]>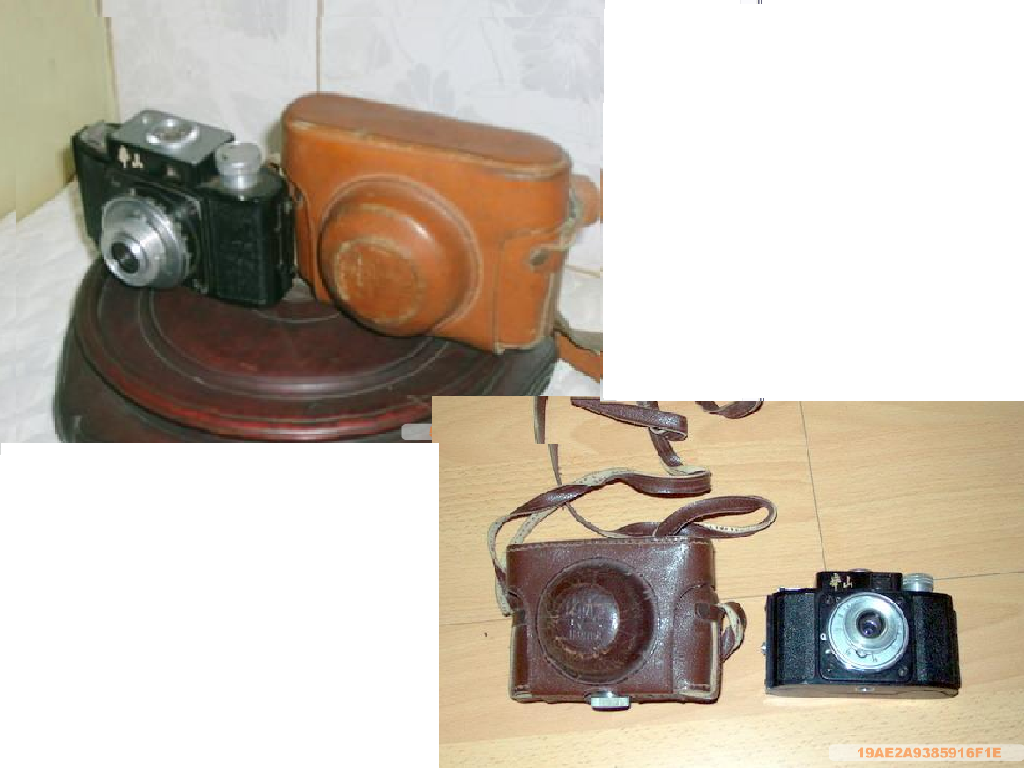 <![endif]>
And two more Huashan
**************************
Click your browser on

, or go back via internet to the main Oddity page, then select the next desired camera to view.