Sociedad Ibero-Americana de la Historia de la Fotografia Museo Fotográfico y Archivo Historico "Adolfo Alexander"
Fórum Yahoo [maquinas russas]

Connon Panoramic Camera
360° circuit panoramic camera invented by John R. Connon, [ca. 1887]
<![if !vml]>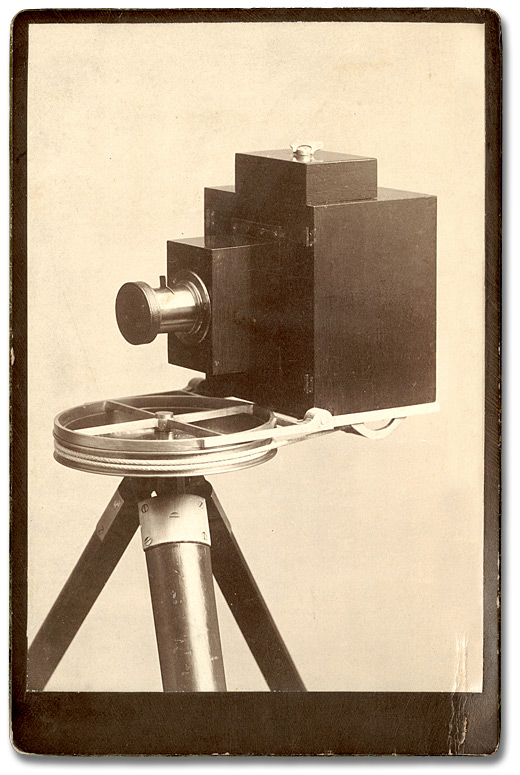 <![endif]>
Original camera picture.
John R. Connon
Black and white print
Connon family fonds
Reference Code: C 286-4-0-4
Archives of Ontario, I0011657
<![if !supportLineBreakNewLine]>
<![endif]> <![if !vml]>
<![endif]>
<![if !vml]>
<![endif]>
<![if !vml]>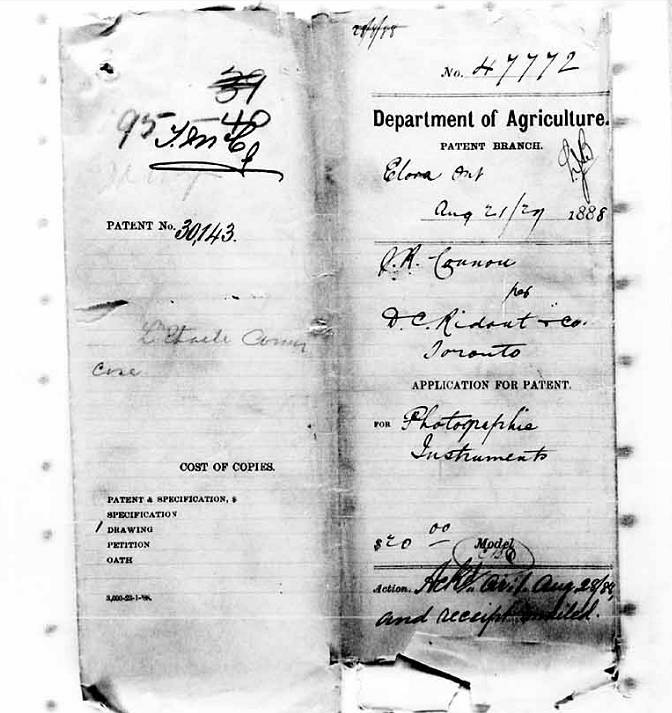 <![endif]>
Patent document
<![if !vml]>
<![endif]>
Drawing
Nomenclature:
l= lens
a= pivoting axle
A= dark chamber
L= driving cord
B= film
E= empty spool
F= film spool
N= narrow dark chamber
O= exposure openings
C= conduction roll
D= driver roll
G =guide rolls
Patent no. 30143 .filling year 1888
Patented in 1888, John Connon's panoramic camera is perhaps Canada's most significant contribution to the field of photography. Although there are European patents for panoramic cameras from as early as 1843, most photographers continued to splice together multiple exposures to capture wide vistas on film. Connon's camera, mounted on a rotating platform, captured views as wide as 360 degrees in a single exposure.
Though it was later commercially eclipsed by cameras sporting 180-degree lenses, Connon's camera became a technological novelty often used to capture large groups of people. Because it took several seconds of rotation to capture a whole scene, it became a favourite trick among younger subjects to stand at one end of a group as the photo began, then run behind the group to the other end to get in the photo twice. Others in the group who turned to watch the runner would inevitably end up blurred in the final photo.
The inventor, though, probably had landscapes on his mind when developing his camera. John Connon was raised in a photographic environment: his father, Thomas Connon, was a prominent landscape photographer in Confederation-era Ontario. In partnership with his son, Thomas Connon photographed the sites and people of Wellington County, including the towns of Fergus and Guelph, as well as the Elora Gorge on the Grand River. The Connons often employed a technique called stereoscopy, a three-dimensional photographic effect popular in the 19th century. John Connon continued to photograph subjects in Wellington County after his father retired in 1885.
Connon's may be the first panoramic camera to use flexible film, which was spooled through the camera, synchronized to the rotation of the tripod. (Previously, glass photographic plates had been used.) Connon's patent specifies the use of paper film, which George Eastman had patented in 1884 and manufactured through his Eastman Kodak Company in the United States. John Connon is said to have credited his father with inventing a device in 1881 for putting gelatin emulsion onto a strip of plastic film, although the first plastic film was manufactured by Eastman Kodak in 1889.
The panoramic effect has remained popular to this day, in both photography and motion pictures. The full 360-degree image, on the other hand, has rarely been replicated. At least one of Connon's panoramic photos of Elora still exists, preserved in the archives of the Wellington County Museum in Fergus, Ontario.
From: www.collectionscanada.gc.ca/innovations/02302
References
Champ, Claire. "Connon, Thomas." Dictionary of Canadian Biography Online.
www.biographi.ca/EN/ShowBio.asp?BioId=40164&query=connon
(accessed October 11, 2005).
Nader, Ralph, Nadia Milleron, and Duff Conacher. Canada Firsts. Toronto: McClelland & Stewart, 1992.
Nostbakken, Janis, and Jack Humphrey. The Canadian Inventions Book: Innovations, Discoveries and Firsts. Toronto: Greey de Pencier Books, 1976.
"George Eastman." Wikipedia.
http://en.wikipedia.org/wiki/George_Eastman
(accessed October 18, 2005).
"Panoramic Photography." Wikipedia.
http://en.wikipedia.org/wiki/Panoramic_photography
(accessed October 18, 2005).
Click your browser on

, or go back via internet to the main Oddity page, then select the next desired camera to view.