Sociedad Ibero-Americana de la Historia de la Fotografia Museo Fotográfico y Archivo Historico "Adolfo Alexander"
Fórum Yahoo [maquinas russas]

»Le Daguerréotype«, c. 1839
Original brass lens with front aperture and flap shutter for Daguerre cameras by Nicolas Marie Paymal Lerebours
(1807 - 1873), one of the leading opticians in Paris.
A spectacular museum piece with original patina. Extremely rare!

<![if !vml]>

<![endif]>
<![if !vml]>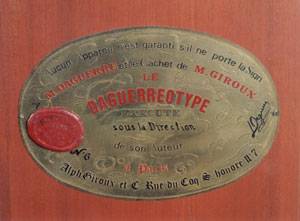 <![endif]> <![if !vml]>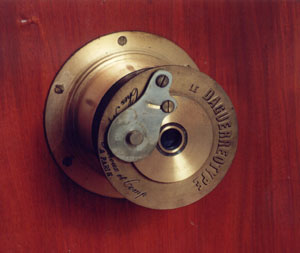 <![endif]>
<![if !vml]>
<![endif]>
Three pictures of a Daguerreotype camera replica made by Novacon in 1989.
The 150th year of photography!
Click your browser on

, or go back via internet to the main Oddity page, then select the next desired camera to view.