Sociedad Ibero-Americana de la Historia de la Fotografia Museo Fotográfico y Archivo Historico "Adolfo Alexander"
Fórum Yahoo [maquinas russas]

Metzmecaflex
he Mecaflex SLR was made 1953 - 1958 at first by Metz Apparatefabrik, Fürth, Germany later by S.E.R.A.O. Monaco It was constructet by Heinz Kilfitt, who also supplied the lenses (Kilfitt Kamerabau, Vaduz, Liechtenstein) The top cover hinges forward to reveal level reflex finder, advance lever, counter etc. 50 exposures 24x24mm on standard 35mm film are possible Interchangeable lenses: Kilar 3,5/40 & 2,8/40 Benoist-Berthiot 2,8/40 Shutters: Prontor-Reflex or Prontor Value today $1000 +
<![if !vml]><![endif]>

Front view.

<![if !vml]><![endif]>

Open for picture taking focusing loupe ready in position

<![if !vml]><![endif]>

<![if !vml]><![endif]>

Rear view with closed top

<![if !vml]><![endif]>

bottom view

<![if !vml]><![endif]>

The ready-case

<![if !vml]><![endif]>

Original Tele-Kilar f4/75mm

<![if !vml]><![endif]>

<![if !vml]><![endif]>

<![if !vml]><![endif]>

<![if !vml]><![endif]>

<![if !vml]><![endif]>

<![if !vml]><![endif]>
Heinz Kilfitt was was the designer of the famous Robot cameras. In 1941, he bought a small factory in Munich and started building his own lenses. He became one of the best and most innovative German lens makers of the 1950's and 1960's.
Heinz Kilfitt founded an optical company in Leichtenstein in 1947 that was subsequently relocated to Munich. Four families of lenses were produced (KI, AN, WE, and N) but the KI lenses are by far the most common. These have a 39mm thread designed to fit into a Kilfitt Reflex Housing but with a KIVIS adaptor or equivalent, these could be used on a Viso II/IIa/III. The Kilfitt line included the original Zoomar lens, made under contract for Voigtlander.
When he retired in 1968, he sold the factory to Dr. Frank Back, who operated it under the Zoomar name from its headquarters in Long Island, New York. Lenses were produced until 1971.
Iit subsequently restricted itself to military optics only and left the civilian market in 1986. The entire Kilfitt/Zoomar lens line is most impressive. The most highly sought after lenses are the 2.8/90 Makro-Kilar, the 4/300 Pan-Tele-Kilar, and the two Zooomatars, 5.6/500 and 1000 catadioptric lenses
Every Kilfitt lens was tested before leaving the factory. Film was not considered flat enough for accurate tests, so it was shot on glass plates -- two of them. One plate went out with the lens, the other stayed at the factory for future comparisons if the lens was ever returned for repairs. The lenses were bolted to a tripod head mounted in concrete in the basement of the Kilfitt factory. Mr. Kilfitt wanted to turn out quality lenses, and he did. Not only did he make lenses, he also designed cameras. The Robot, the Mecaflex and the Kowa 2 1/4 are all Mr. Kilfitt's designs. Kilfitt's and Zoomars are fine lenses of great precision and optical performance, but today they are hard to find -- at least in the US.
After the war he worked for Heinz Kilfitt as a mechanical designer, and was the main designer of the very advanced Kilfitt SLR with a super fast metal bladed shutter. Unfortunately that camera never was produced, and only a few prototypes were built. I don't think anyone knows what became of those.
The 300 and longer non-mirror lenses are more likely to have coating problems than not, leading to believe the factory coating on large lens surfaces was often not up to the challenge. Well known for optical innovation, Kilfitt specialized in two areas: macro lenses and zooms - his factories invented both. In 1955 Kilfitt made world's first 35mm macro lens, the 40/2.8 Kilar. In 1959 the Kilfitt factory turned out the world's first production 35mm zoom lens, the 36-82/2.8 Zoomar. Not too bad for an independent factory
Yes, Mr. Kilfitt designed medium format cameras!
<![if !vml]>
<![endif]>
Heinz Kilfitt camera system  1954 forerunner of Fujita/Kalimar cameras
<![if !vml]>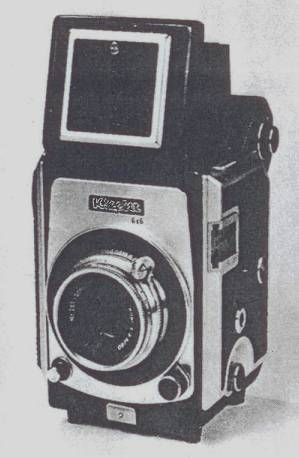 <![endif]>
Second model made in Japan
large front changeable mouth  apt to use all Kilfitt lenses as well as from other cameras
<![if !vml]>
<![endif]>
<![if !vml]>
<![endif]>
Fujita and Kalimar for comparison
<![if !vml]>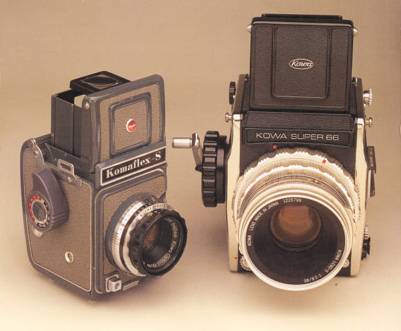 <![endif]>
Here we have all Mecaflex pinciples used in medium format cameras 4x4 Komaflex and 6x6 Kowa Super.
Both share Kilfitt original designs
<![if !vml]>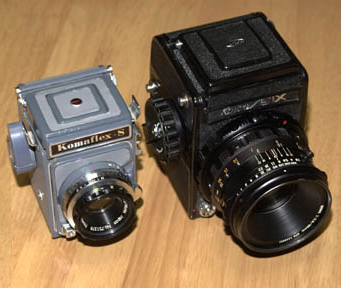 <![endif]>
<![if !vml]>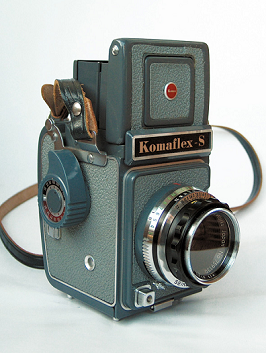 <![endif]>
The Komaflex , and with auxiliary optics, size comparison with baby Rolleiflex
<![if !vml]><![endif]><![if !vml]>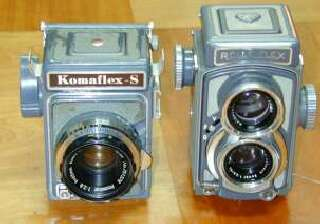 <![endif]>
<![if !vml]>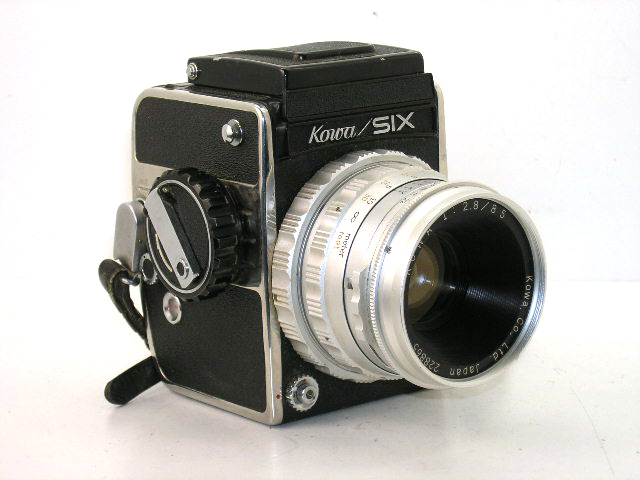 <![endif]>
The Kowa Six and lenses
<![if !vml]>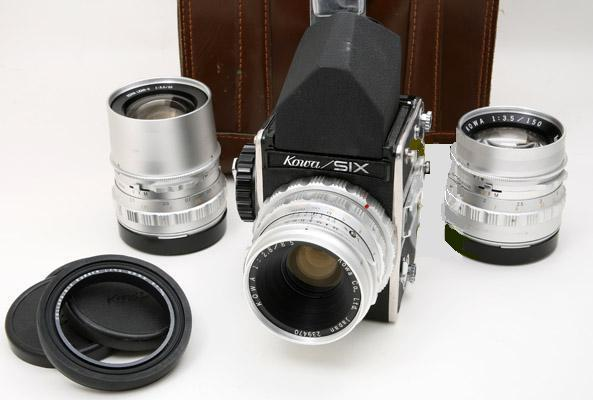 <![endif]>
Finally the project evolved to the famous Mamiya RB 67
<![if !vml]>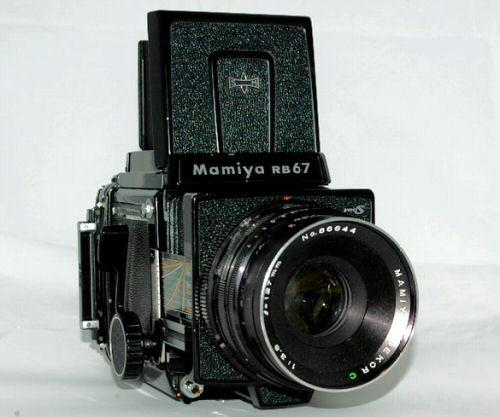 <![endif]>
<![if !vml]>
<![endif]>
Mamiya and system
Stereo of course!
<![if !vml]>
<![endif]>
first prototype 1953
Corso Polaris and Kilfitt org
<![if !vml]>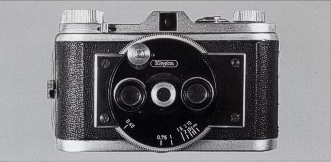 <![endif]>
Second prototype 1954
cameras using film Werner Weiser
The origins
<![if !vml]>
<![endif]>
<![if !vml]>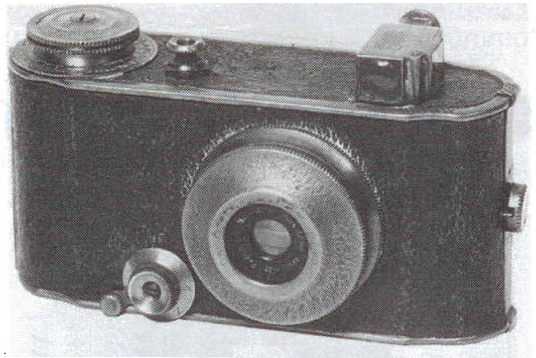 <![endif]><![if !vml]>
<![endif]>
Note that this camera was designed when Mr Kilfitt was only 18 years old
Ein Bild vom Kilfitt Prototyp ohne Federwerk mit einem Objektiv von Rüo, Berlin
<![if !vml]>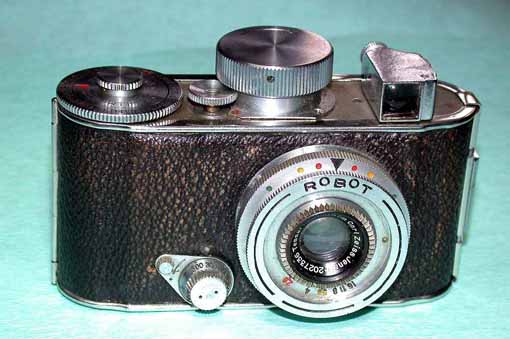 <![endif]>
<![if !vml]><![endif]>
<![if !vml]>
<![endif]><![if !vml]>
<![endif]>
<![if !vml]>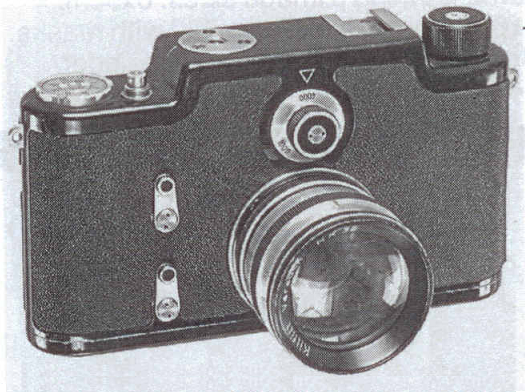 <![endif]>
<![if !vml]>

<![endif]>
The design and development is reported of a high-speed in-between-lens shutter free from vibration. Any vibration, either internally within the camera or transmitted to the camera from the air-frame tend to deteriorate the picture quality. Shutters of the required size (3 1/2 in. free aperture) which exist at present do not meet this specification, because heavy masses are moved and springs are employed. The shutter uses continuously rotating discs in main- and sub-assemblies with properly positioned cut-outs. The drive-connections between motors and gear-trains are effected by a recently developed highly elastic slip-free belt. The shutter assembly is connected to the camera housing by means of an elastic suspension. The results obtained on the experimental model with photographic tests show the following: A comparison was made between test photographs with the shutter at stand-still, fully open and the whole mechanism operating. The resolution values are the same on both test exposures. This indicates that there is no deterioration caused by shock, vibration or other factors. Independent electronic vibration tests were conducted to verify the photographic results. (Author)