Sociedad Ibero-Americana de la Historia de la Fotografia Museo Fotográfico y Archivo Historico "Adolfo Alexander"
Fórum Yahoo [maquinas russas]

Printex Press Camera
Pasadena, CA, USA, 2 1/4 x 3 1/4 ", cast aluminium body with Wollensak Raptar 4.5/101mm lens no.537187 in Wollensak Alphax shutter, Kalart rangefinder, two J.B. Wood Flash Tronic Model BL flash units, King Sol right-angle flash attachment and one Graphic film holder. An uncommon post-war American press camera. Ex Spira Collection. (c.1946/47)
This press type camera was completely made in metal having no bellows, instead, there was a metal telescoping focusing tube. These cameras were produced in both 4 x 5 and , 2 1/4 x 3 1/4 . The factory also produced a very interesting and odd lamp flash gun, the Flash Tronic, which uses no batteries . Instead it has a built-in generator-capacitor, activated by the bottom knob in the flash body, so one will never need batteries. Interesting is to observe that the shutter has no synch at all, but here, the flash synchronizes the shutter. When one presses the firing button (in the flash gun) the lamp warms and a clock-work soon fires the shutter via cable release. The concept was destinated to be used by military on war fields, although it came a bit late, the war was gone, the prices were high, and sales were poor. Otherwise an interesting project.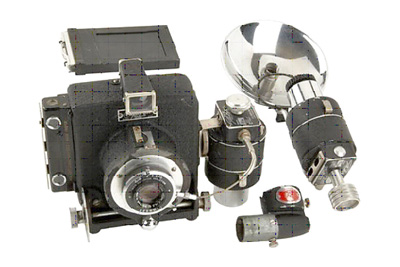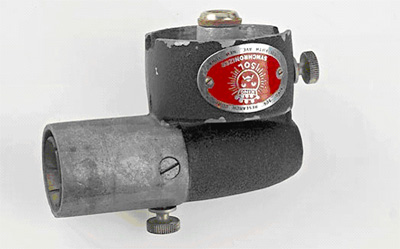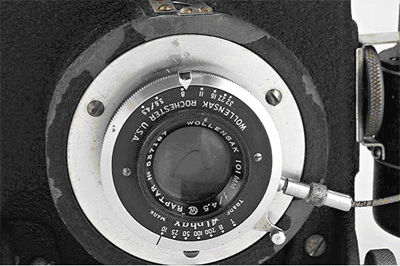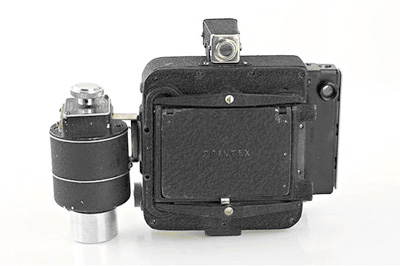 Click your browser on

, or go back via internet to the main Oddity page, then select the next desired camera to view.