Sociedad Ibero-Americana de la Historia de la Fotografia Museo Fotográfico y Archivo Historico "Adolfo Alexander"
Fórum Yahoo [maquinas russas]

Zorki 35M
The Zorki-35M is a full-frame 35mm coupled rangefinder. Its project was undertaken by KMZ designer Nikolay Mikhaylovich Marenkov during the late 1960's (the "M" is his signature ... he also designed the Zorki-3M and the Zenit-3M). It was based on the body of the Zenit-E and some of the details taken from Drug (rangefinder) : FED (slow speeds) and Zorki 6 (Shutter mechanics- now with 1/1000).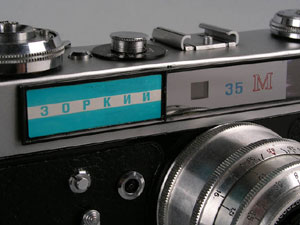 See other pictures of Zorki 35m at
http://www.nightphoto.com/z35m.html
the whole camera site at
http://www.nightphoto.com/cameras.html