<![if !vml]><![endif]>
FED 1e1 "S" BERDSK con obiettivo SONNAR

<![if !vml]>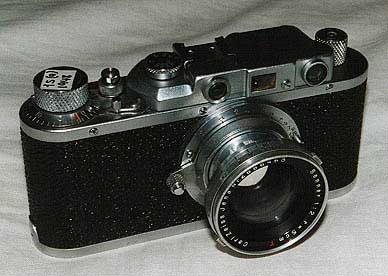 <![endif]>
FED 1e1 "S" BERDSK
---
<![if !vml]>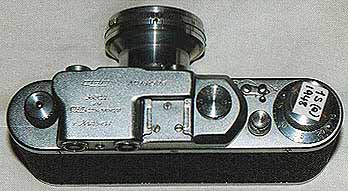 <![endif]>
FED 1e1 "S" BERDSK
Con un po' di ritardo aggiorno questa pagina. Questo modello
и
una FED 1e1 "S" (infatti la velocit
а
massima dell'otturatore
и
1/1000 di secondo), numero di serie 181306 (comunemente definita "FED 1 BERDSK"), con un obiettivo ZEISS SONNAR f:2, matricola 2686463 (

originale, data la presenza del numero 686463 stampigliato all'interno, e non uno Jupiter falsificato come pensavo all'epoca della stesura di questa pagina!

) inserito sulla flangia del probabile obiettivo originale, un FED 50mm 2 matricola 33048.Non credo quindi si tratti di una falsificazione, ma semplicemente di una modifica, ovviamente non di fabbrica, opera di qualche fotoriparatore.
Se qualcun altro
и
in possesso di un modello analogo,
mi scriva
.
Grazie.
With some delay, I update this WEB

page.This

model is a FED 1e1 "S" (

infact

maximum speed of shutter is 1/1000 sec.) serial number 181306 (usually called "FED 1 BERDSK"), with lens ZEISS SONNAR f:2 N° 2686463 (

a true SONNAR lens, since the internal number stamped 686463 and not a fake as I thought when I wrote this page!

) ,inserted on modified screw-mounting of original lens, a FED 50mm 2 with serial number 33048. I don't think could be a fake, but a modification, made in some workshop, of course not from factory.
If anybody has a camera like this, pleas
contact me
.
Thank
you

.
---
---
Questa

и

la

pagina WEB

di

CLAUDIO ASQUINI/

This

is CLAUDIO ASQUINI'S WEB

page
Copyright ©

Claudio

Asquini

1998 - 2002
---
<![if !vml]>

<![endif]><![if !vml]>

<![endif]>