<![if !vml]>

<![endif]>
KIEV 47
<![if !vml]>
<![endif]>
Ormai si и detto praticamente tutto ed il contrario di tutto su questa rarissima Kiev II, diretta discendente della Contax II. Mi limiterт quindi, ad uso di quanti abbiano necessitа di verificare la corrispondenza dei particolari, a pubblicare alcune immagini. L'apparecchio in esame и matricola 47275, con obiettivo ZK 1947 f=5 cm 1:2 serie 000255. By this time, all was told about this rare Kiev II, directly coming from Contax II. I want to put on my page some pictures only, a useful reference for whom want to verify matching of particulars. This camera has serial number #47275; lens ZK 1947 f=5 cm 1:2 #000255.
1. LOGO
<![if !vml]>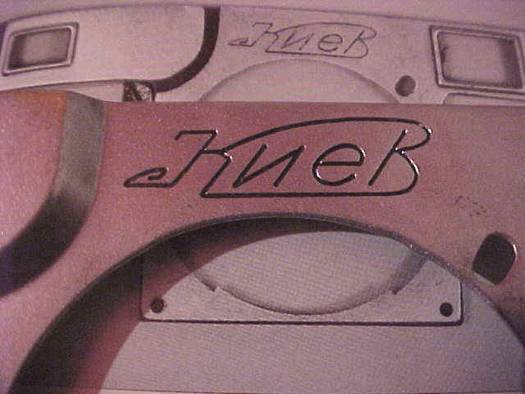 <![endif]>
Benchи si siano visti modelli di KIEV 47 anche con logo "cirillico stampatello" (come i modelli successivi), questo и il logo "classico", inciso a mano, della KIEV 47. Pare esistano anche KIEV 48 con questo logo. Although was seen some KIEV 47 specimen with cyrillic block capital logo (such as late models) this is "classic" logo, handgraved, for KIEV 47. It seems existing KIEV 48 even with this kind of logo.
2. ROVESCIO DELLA PLACCA ANTERIORE REVERSE OF FRONT PLATE
<![if !vml]>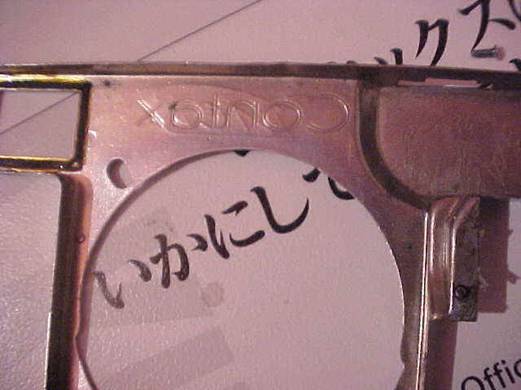 <![endif]>
E' possibile, rimuovendo la placca anteriore, vedere sul rovescio la traccia lasciata dal logo "CONTAX", che fu ribattuto dal davanti per poter incidere il nuovo logo "KIEV". Prima di produrre nuove placche, quindi, gli stabilimenti "Arsenal" pensarono bene di "riciclare" quelle giа pronte della Contax II.After removing front plate, it is legible the precedent "Contax" logo that were pressed for engrave the new logo "KIEV". Before make new front plates, "Arsenal" plant "recycled" existing front plates of Contax II.
Altra particolaritа importante: come la Contax II, la placca della KIEV 47, come quelle delle 48 ,49, fino al 50 circa, ha il foro circolare che circonda la flangia porta-obiettivi con solamente due tacche a ore 4 e ore 8 (vedere foto). Le placche successive hanno una terza tacca a ore 12. Important particular: as Contax II, KIEV 47's front plate (such as 48's, 49's until 50's) has in the mount hole two dents only at low-right and low-left (see pict). Later front plates has a third dent in the upper side.
3. FLANGIA PORTA-OBIETTIVI LENS MOUNT
<![if !vml]>
<![endif]>
Lo stile dei numeri della scala delle distanze ha due caratteristiche: il numero "3" ha la parte superiore piatta, non arrotondata; i decimali sono separati da una virgola, non da un punto. Il "3" arrotondato ed il punto decimale sono caratteristiche proprie dei modelli successivi. Distance scale numeral style has two characteristics: number "3" has flat top, not rounded; decimal separation has a comma, not point. Round top "3" and comma for decimal are proper of later models.
4. ROTELLA DI MESSA A FUOCO FOCUSING GEAR
<![if !vml]>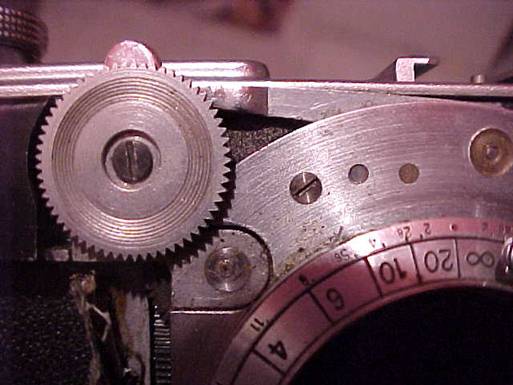 <![endif]>
La rotella di messa a fuoco di questo modello presenta i cerchi concentrici, visibili dopo aver asportato la placca frontale, tipici delle Contax II. I modelli di Kiev successivi al 1950 sono privi di questi cerchi. Non presenta perт la scanalatura longitudinale, che tutte le Contax II (ma NON TUTTE le KIEV 47) hanno. This model's focusing gear has concentric grooves, visible after removing front plate, typical of Contax II. Kievs after 1950 do not have these grooves. This model does not have the groove on the teeth, instead of all Contax II ( but not all KIEV 47s) have.
5. CONTAPOSE FRAME COUNTER
<![if !vml]>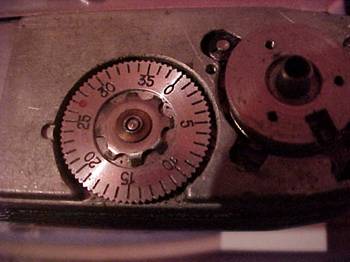 <![endif]> <![if !vml]>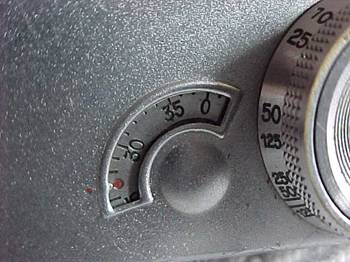 <![endif]>
Il contapose della KIEV 47 и sostanzialmente identico a quello della CONTAX II. I numeri sono grossi ed il "3" ha la parte superiore piatta. KIEV 47's frame counter is practically identical to that of Contax II. Numbers are big and there is flat top "3".
6. NUMERO all'INTERNO INTERNAL NUMBER
<![if !vml]>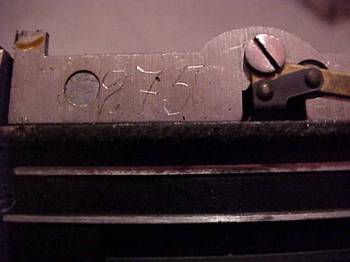 <![endif]> <![if !vml]>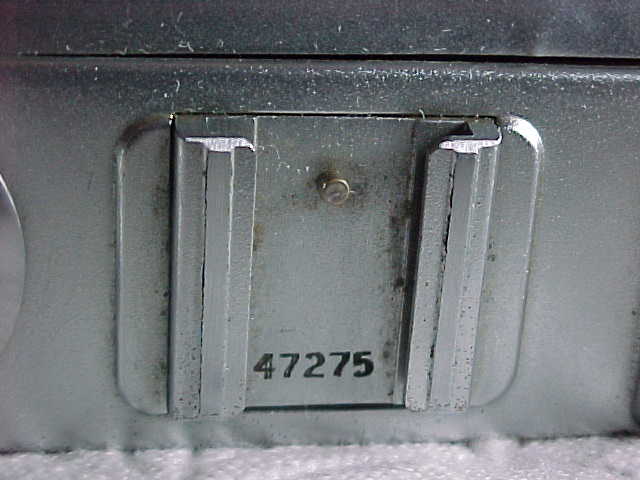 <![endif]>
Una caratteristica decisamente interessante, rilevata in parecchie KIEV 47 e 48, и la coincidenza di un numero inciso all'interno (visibile rimuovendo il tettuccio della macchina) con le cifre del numero di matricola escludendo le prime due. Nel caso della macchina esaminata, "275" all'interno del corpo macchina corrisponde a "47 275". Puт essere un riferimento per l'abbinamento del corpo macchina con le parti esterne al momento dell'assemblaggio, oppure in caso di una manutenzione o riparazione. A very interesting feature, seen in KIEV 47 and 48 models, is a number engraved on internal body (it is possible see after removing the top of camera) that is the same number of serial numner without the first two digit. In this case, "275" engraved on the chassis matches with "47 275". Maybe was a reference for factory assembling, or for servicing.
7. FONDELLO BOTTOM
<![if !vml]>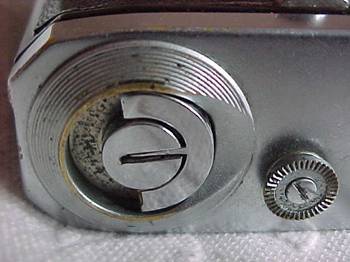 <![endif]> <![if !vml]>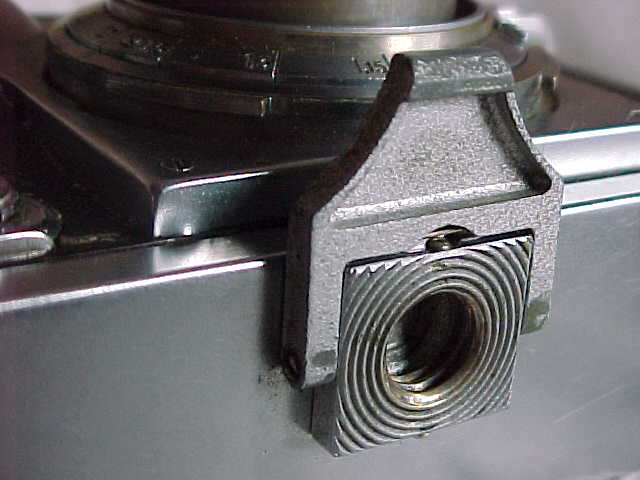 <![endif]>
Il fondello и sostanzialmente uguale a quello della CONTAX II. Lo sblocco della pellicola presenta una zigrinatura che scomparirа nei modelli successivi. Bottom is the same of Contax II. Rewind knob has grooves that will be disappear on late models.
8. OBIETTIVO LENS
<![if !vml]>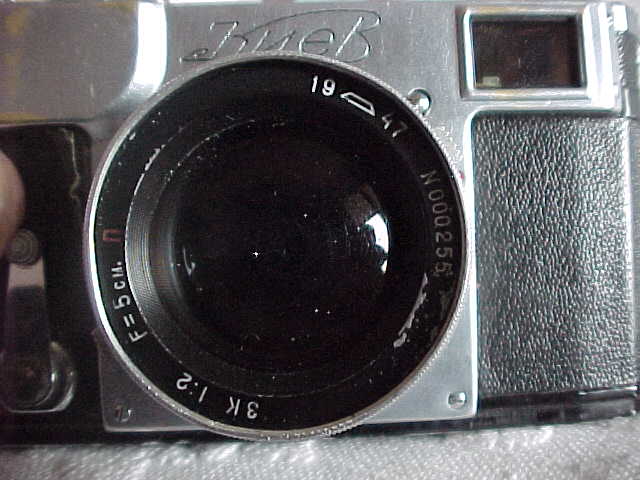 <![endif]>
L'obiettivo (Sonnar Krasnogorsk ZK F= 5 cm. 1:2 1947 N° 000255) и identico al Sonnar Zeiss con montatura rientrante. Anzi, E' EFFETTIVAMENTE un Sonnar Zeiss! Da un interessante studio di Minoru Sasaki (www.cameraguild.co.jp/officeheliar), si evince come i numeri presenti sul barilotto degli obiettivi Krasnogorsk montati sulle macchine prodotte nell'immediato dopoguerra (KIEV 47, 48, ma anche FED-ZORKI) corrispondano alla numerazione impiegata dalla Zeiss per siglare i propri obiettivi. La numerazione interna corrispondeva, meno il numero iniziale, al numero di serie impresso sull'anello frontale. Ad esempio, se smontiamo un obiettivo Sonnar Zeiss N° 2686073, all'interno troveremo stampigliato il numero 686073, che corrisponde appunto al numero di matricola senza il "2" iniziale. Lens (Sonnar Krasnogorsk ZK f=5 cm. 1:2 1947 #000255) is identical to the Sonnar Zeiss collapsible. Really it is a TRUE Sonnar Zeiss! From an interesting study by Minoru Sasaki (www.cameraguild.co.jp/officeheliar) there is the evidence that numbers engraved inside the lens mounted on afterwar period cameras (KIEV 47, 48, even FED-ZORKI) are the same numbers used by Zeiss for its own lens. Internal numbers matched with serial number engraved on front ring without first digit. For example, if we look inside a Sonnar Zeiss N° 2686073, we will find engraved 686073, matching to serial number minus "2" of initial.
Anche l'obiettivo della macchina in oggetto, una volta smontato, ha un numero di chiara provenienza Zeiss, <![if !vml]>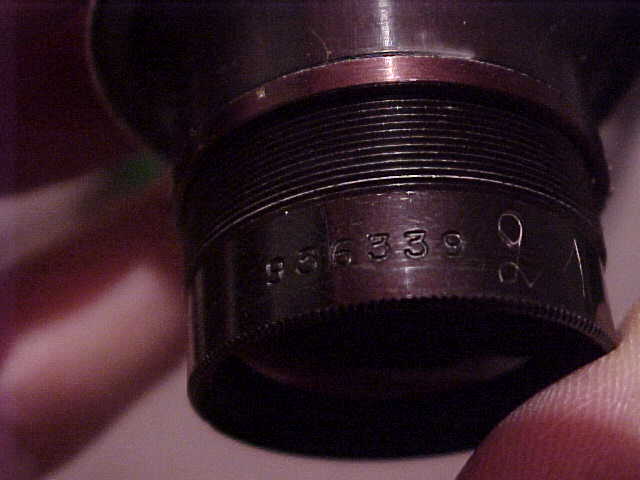 <![endif]>
precisamente il numero 936339, che corrisponde verosimilmente all'obiettivo Zeiss Sonnar N° (2)936339. Nello studio di Sasaki, vengono citati gli obiettivi ZK 1947 matr. 000034 con numero Zeiss (2)936588 e ZK 1947 matr. 000151 con numero Zeiss (2)936364. E' interessante notare come l'attribuzione della nuova matricola non abbia alcuna coerenza, neppure cronologica, con il numero originale Zeiss. Quindi, и evidentemente confermato che i primi obiettivi Krasnogorsk furono effettivamente dei veri e propri Zeiss "sovrascritti". This camera has too a Zeiss-origin number engraved inside, exactly 936339, it would be a precedent Zeiss Sonnar N° (2)936339. In Sasaki' report, are cited lens ZK 1947 # 000034 with Zeiss number (2)936588 and ZK 1947 # 000151 with Zeiss number (2)936394. It is interesting does not existing any correspondance, even not chronological, with original Zeiss number. So, it is confirmed that early Krasnogorsk lens are true Zeiss lens "overprinted".
ALTRE IMMAGINI MORE PICTURES
<![if !vml]>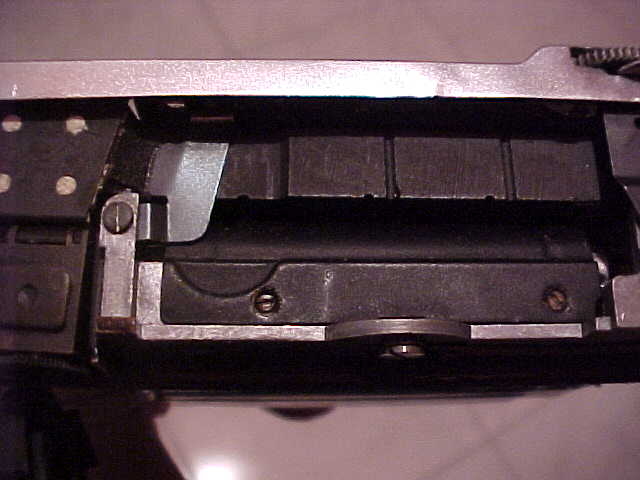 <![endif]>
<![if !vml]>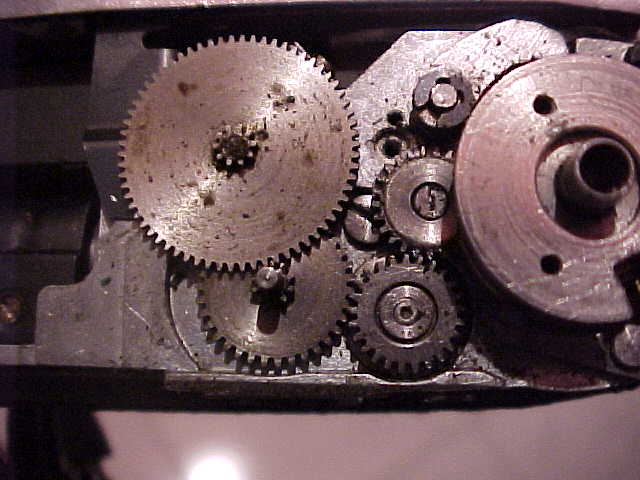 <![endif]>
<![if !vml]>
<![endif]>
<![if !vml]>
<![endif]>
<![if !vml]>
<![endif]>
REGISTRO delle KIEV 47 KIEV 47's DATABASE
Non so se esiste giа. Io provo a farlo, pensando di fare una cosa utile ai collezionisti e sperando di essere contattato dai possessori di KIEV 47 che ringrazio fin d'ora. I don't know if already exists. I try to build up, thinking to do a useful service for collectors and hoping to be contacted by KIEV 47's owners, thanking in advance.
| | | |
| --- | --- | --- |
| SERIAL NUMBER of BODY | SERIAL NUMBER of LENS | REMARKS |
| 47058 | C.Zeiss Sonnar 5 cm 2710154 | Illustrated on "CONTAX to KIEV" Sasaki's book |
| 47074 | C.Zeiss Sonnar 5 cm 2853698 | On EBAY auction in March, 2002 |
| 47117 | ZK 1947 5 cm 000261 | |
| 47160 | ZK 1947 5 cm 000151 | Illustrated on "CONTAX to KIEV" Sasaki's book |
| 47275 | ZK 1947 5 cm 000255 | this is model here described |
| 47335 | ZK 1947 5 cm 000169 | Illustrated on "CONTAX to KIEV" Sasaki's book |
| 47402 | ZK 1947 5 cm 000034 | Illustrated on "CONTAX to KIEV" Sasaki's book |
| 47469 | ZK 1947 5 cm 000465 | Illustrated on Princelle's book |
| | | |
| | | |
| | | |
torna alla pagina principale/back to main page
COPYRIGHT ©ASQUINI 2002
и permesso l'utilizzo delle foto citando questo sito
it is permitted use of pictures only if quoting this site
<![if !vml]>

<![endif]>