Sociedad Ibero-Americana de la Historia de la Fotografia Museo Fotográfico y Archivo Historico "Adolfo Alexander"
Fórum Yahoo [maquinas russas]

Kalart Press Camera - 1948-53
 3-1/4 x 4-1/4". Dual rangefinder windows to allow for use with either eye. f4.5/127mm Wollensak Raptar in Rapax 1-400 shutter. Dual shutter-release triggers controlled by Electric Brain.
<![if !vml]>
<![endif]>
¾ front view
<![if !vml]>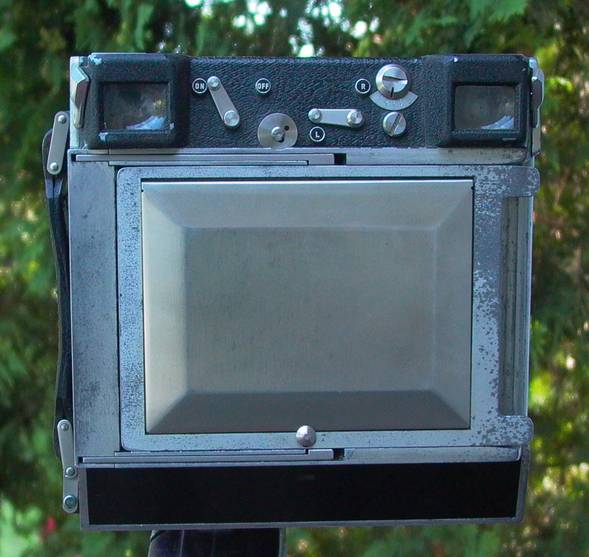 <![endif]>
Rear view showing controls
<![if !vml]>
<![endif]>
Closed over the table.
It is shown in McKeown's PRICE GUIDE with DUAL flash-heads, operated by a built-in "Electric Brain". With a beautiful looong black bellows, in what looks like NEW condition. With a super clean 127mm/4.5 coated Wollensak Raptar lens in a Wollensak Rapax X sync shutter, T. B. 1-400 sec. Shutter works, but slow speeds are sluggish. With triple extension rack/rail. The front has a "rise" feature. With an aperture range of f4.5-32.
The camera uses 3-1/4 x 4-1/4" cut film holders. We will include one older wood "display" holder (not for normal use).
Camera construction:
The camera has two parts. The front and the back. The back holds the bellows, which is retained by four screws . There could be seen the three copper contacts , connecting the bellows with the back side: two on the right side and one on the left. The front of the housing holds the hinged drop bed. On top of it, you can find the ingenious range finder which covers two view finders and the focus spot light. No wonder you can find here a lot of wiring, mirrors, connectors and other stuff.
The power is delivered from three 1,5 volt batteries. In the battery holder beneath the 3 1/4 x 4 1/4 film holder back which has the ground glass and viewing hood, also  includes a hinged magnifier for fine focusing.
Thanks to an ingenious designed electric circuit in combination with an even more ingeniously designed film holder, it is practically impossible to make blanks or double exposures.
<![if !vml]>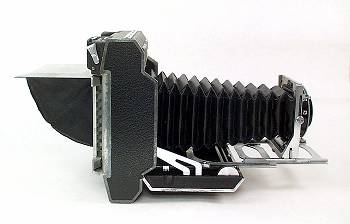 <![endif]><![if !vml]>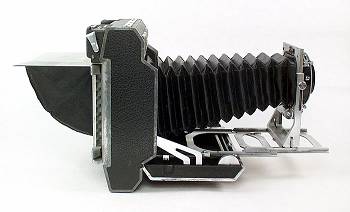 <![endif]>
Showing bellows extension and movements
The picture above shows wire circuit testing, to find out how the electric shutter control works. On the lens board there is a tiny switch. If the shutter has not been cocked, the circuit is interrupted ! .<![if !vml]>
<![endif]>
<![if !vml]>
<![endif]>
Extended bellows
<![if !vml]>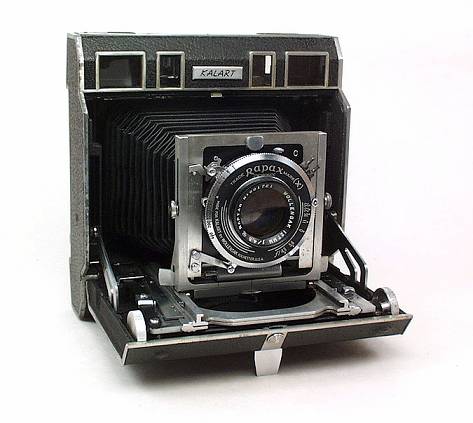 <![endif]>
Normal working position
<![if !vml]>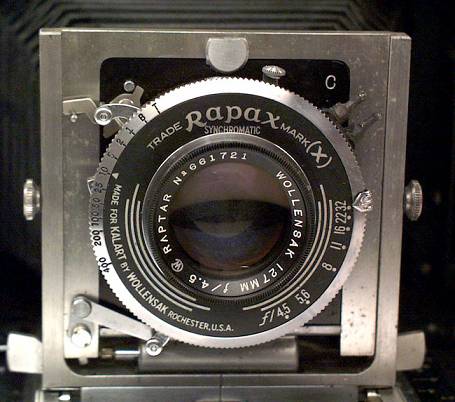 <![endif]>
Shutter front details showing trigger relay and micro switch.
If the dark slide has not been pulled out, the circuit is also interrupted !
<![if !vml]>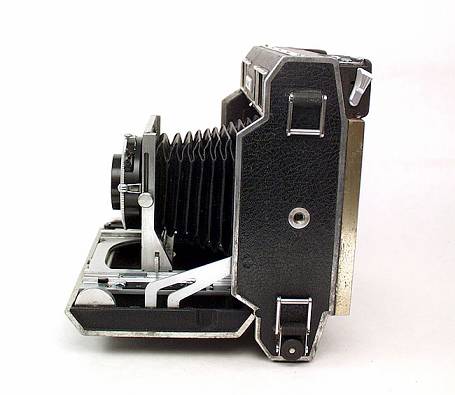 <![endif]>
<![if !vml]>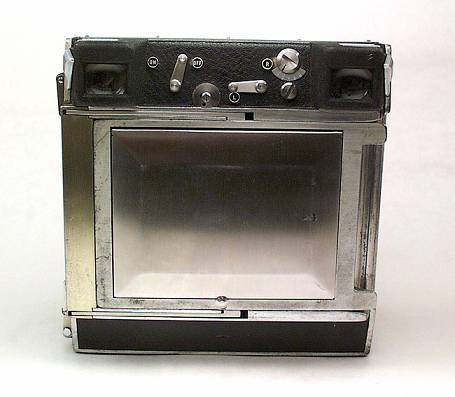 <![endif]>
After exposure, one cannot push the dark slide back again, without turning it upside down. The switch on the back prevents false procedure. Neither is it possible to draw the dark slide out again to prevent double exposure
<![if !vml]>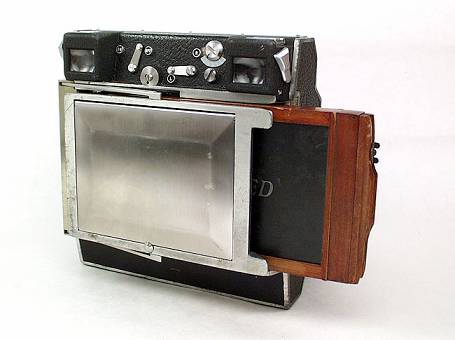 <![endif]>
Mini switch interrupting the circuit after "shooting."
<![if !vml]>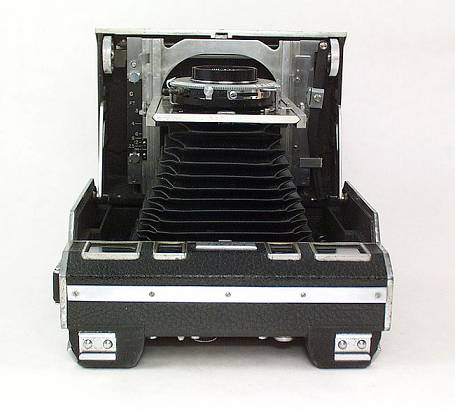 <![endif]>
<![if !vml]>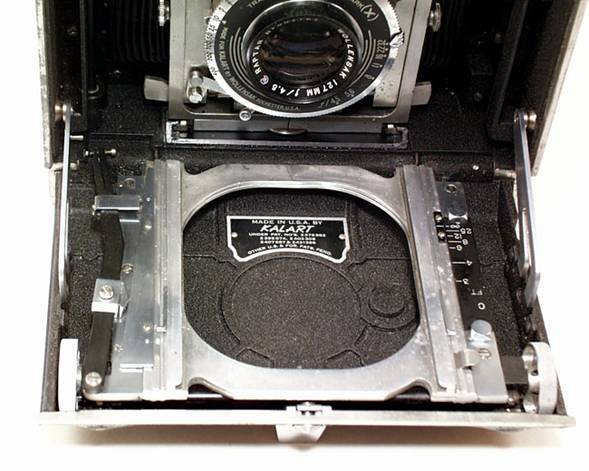 <![endif]>
Distance scale and focusing bed
The interior from the Kalart Sheet Film Holder. By pushing the lock towards the center, the holder with the sheet film can be taken out of the red coloured Holder. After loading again, don't forget to turn the dark slide "chrome up"
It took twelve long years of research , development, experimentation and breakdown tests to get this precision instrument available to the professional photographer. The first camera with an electric circuit that prevents blank or double exposures. The concept was to incorporate all the improvements of the previous inventions in one camera, to minimise the mechanical worries, guard against human error and for all leave the photographer free to concentrate on the subject.
<![if !vml]>
<![endif]>
<![if !vml]>
<![endif]>
<![if !vml]>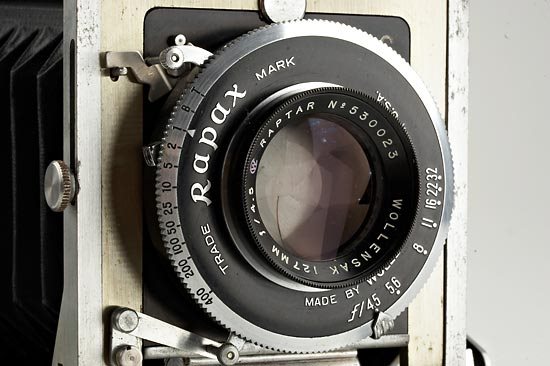 <![endif]>
<![if !vml]>
<![endif]>
<![if !vml]>
<![endif]>
<![if !vml]><![endif]>
Edward K.

Kaprelian
Designer of the

Kalart

Press Camera
Held more than 50 US and foreign patents
1913-97
Society for imaging science and technology :
1968 Senior Membership.
1958 Fellowship.
Ed Kaprelian's profession was that of an optical, mechanical and photographic professional. He was also a devoted collector of photographic apparatus and spoke often to collecting groups on diverse subjects related to nearly every element of photography. Most of the photographic collecting societies became active beneficiaries of his knowledge and experience. He was gracious and forthcoming to all.
He had graduated with a Masters in Engineering from Stevens Institute of Technology.
During world War II, he was a Lieutenant Colonel in the US Army Reserve. He held more than 50 US and foreign patents and was the author of numerous technical papers, encyclopedia articles and book reviews.
He acted as a consultant to the Photographic industries well beyond normal retirement age and was listed in Who's Who in America, Who's Who in Engineering, and American Men of Science.
Interesting to say that, he was familiar with Zeiss Ikon and Carl Zeiss products which were a significant portion of his collection and was familiar to the Zeiss firm in his professional capacities. During the time he was with the Signal Corps, many Carl Zeiss optical designers  to work  in the United States under his direction.
The famous Zeiss lens collection which was appropriated as war reparations by the US Army in May 1945 and sent to the US, became under his control. None of these nearly 2000 historically and technically significant lenses had been clearly documented. But at that time, he had on his staff Dr. Willy Merte. Merte had been the head of optical computation at Carl Zeiss Jena and was languishing in a refugee camp in Heidenheim before Carl Zeiss could begin operation in Western Germany. Merte was familiar with the collection and cataloged all of the 2000 lenses for US military and civilian use.
Since he was in private business, no one approached Kaprelian on the matter of knowledge in such area. After Kaprelian's release from his military service, the lens collection was left in the custodian ship of the firm of Burke and James in Chicago and occupied space in their warehouses for some 20 odd years. Later, when the firm questioned whether it should continue to be maintained, no one in the military could answer this question and so it was disposed of as surplus material via a mail order business and dispersed.
However, the firms of Carl Zeiss in Oberkochen and Carl Zeiss Jena in East Germany both sought to reacquire it from time to time but, unfortunately, due to red tape and lack of knowledge as to where it was, they did not find those who were in possession of the collection.
By an intriguing coincidence Kaplerian and Ionissani (from Reporter camera) , both of Arminian origins, were responsible for the two most interesting press cameras built.
(From Zeiss Historica)