The Single Lens Reflex Multiplicator Nº 1692 of Mr. Ljubimov, gave 15 pictures on a 30X37mm format placed on a photographic plate 13X18cm (3 horizontally and 5 vertically). The special plate charger is located on the back and can move upwards-downwards and to the parties concerning a chosen window. The mirror behind the objective projects the image on a matte screen. The camera is built in a wooden prism and to it is applied a "Tourist" lens/shutter assembly. To this mirror body prism it is applied the back moving plate carrier. After focusing, a lever rise the mirror by means of a separate flexible rope, and operate a draft uncovering the frame. The set uses an objective "Industar -7" 3,5/105 mm Nº 175497 in a standard shutter "ГОМЗ" properly modified. Focusing is done in the front element of the objective. The beginning of the release of "ЗМ" "ZM" -was not earlier than 1935-36 years of mass production of device "Tourist ".
On camera escutcheon it is specified: " RSFSR. NKMP-MGUMP". Trust of local industry Kominternovskogo of district council. The Zerkalnii Multiplicator is a design of E.O.Ljubimova. Moscow, Petrovka, 14 ".
. «РСФСР. НКМП-МГУМП. Трест местной промышленности Коминтерновского райсовета. Зеркальный мультипликатор конструкции Е. О. Любимова. Москва, Петровка, 14».
<![if !vml]>
<![endif]>
From: Foto Sibir Oleg Tumazov
<![if !vml]>
<![endif]>
From: Russian and Soviet Cameras (1840-1991) Boris Bykov
<![if !vml]>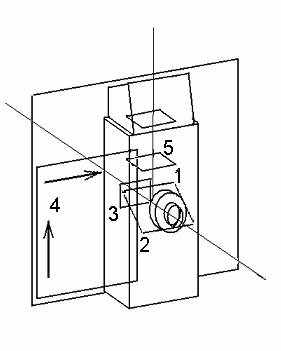 <![endif]> <![if !vml]>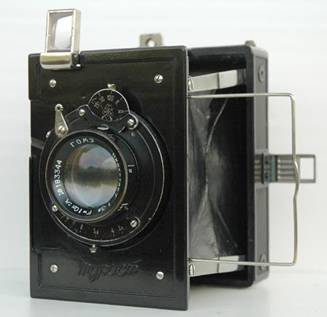 <![endif]>
At left camera schematics, in the resting position. At right view of "Tourist" camera.
Nomenclature: 1- lens & shutter, 2- moving mirror, 3- picture frame, 4- plate (with moving direction arrows), 5- matte screen.
<![if !vml]>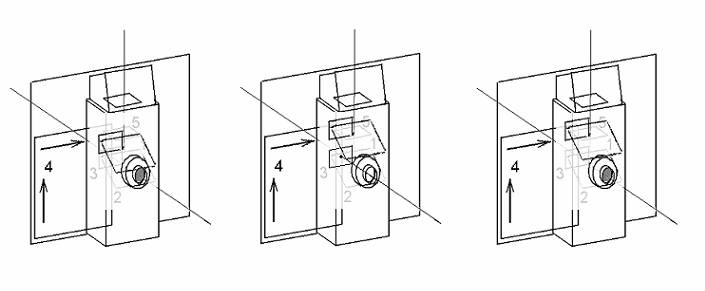 <![endif]>
Picture taking working sequence: From left to right. 1-The draft in the prism containing the frame shield and mirror begins its travel upwards-The shutter closes. 2-The draft reaches the highest travel point-The shutter fires. 3- The draft begin its downward travel – The shutter is closed. = In the resting position the frame shield is closing the frame window and the shutter is opened for viewing in matte screen.
<![if !vml]>
<![endif]>
Plate picture sequence