Sociedad Ibero-Americana de la Historia de la Fotografia Museo Fotográfico y Archivo Historico "Adolfo Alexander"
Fórum Yahoo [maquinas russas]

SPACE LENINGRAD
<![if !vml]>
<![endif]>
German Stepanovich Titov
Born: September 11, 1935 – Died September 20, 2000.
Cosmonaut # 2/2, Status – Retired (June 1970).
1 Space mission, total duration – 1 day 1 hour 18 min. 00 sec.
Space mission – August 6 – 7, 1961, Pilot of "Vostok-2''.
Ord.
num.

Startup
space

craft

Date and
time of
launch (UT)

Status
while
launch

Space

craft
of landing

Date and
time of
landing (UT)

Duration

Total duration

1

06h.00m.
Aug 06, 1961

Plt

07h.18m.
Aug 07, 1961

1d.01h.18m.

1d.01h.18m.
First model Leningrad space camera based on the regular Leningrad, odd oval negative format, clockwork motor, electric solenoid shutter release, made for use with thick gloves, 2,8/37 MIR-1 lens of retrofocus design. Anyone who thinks that the Russians were unable to build a high precision camera should examine this model, very few known. An exactly identical model was first used in  the Vostok-2 flight around earth by Maj. German Titov in his historical flight in Aug 06/07 1961. This one model was made in 1966- serial nº 1101. You have front and back views and the objective near view. The objective MIR-1 has a special ring intended for adapting it at the spacecraft window.
The camera uses a hand grip (not shown) plugged on the top electrical connector and is operated upside down via left hand. The shutter is fired electrically by solenoid through the 28V high frequency mains. The camera has a main 1/1000s shutter speed and a 1/60s second choice, has also fixed hyperfocal focused lens,  but diaphragm varies from 2.8 to 16. The spring wind mechanism advances all the 36 pictures of the roll in a single charged wind. A large hand crank quickly rewinds the film. The film clutch is at the spring side indicated by arrow and engraved instructions. The removable back is hinged to the body via rear latch. All these was made to easier operations of a cosmonaut in a hurry. Its almost 1200g wheight rival a feather at space highs.
<![if !vml]>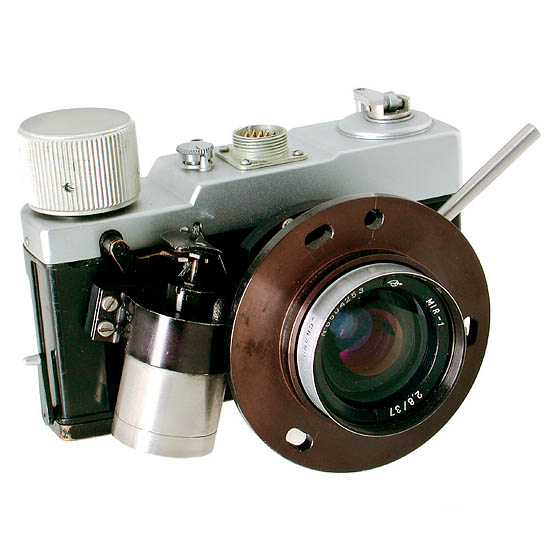 <![endif]>
<![if !vml]>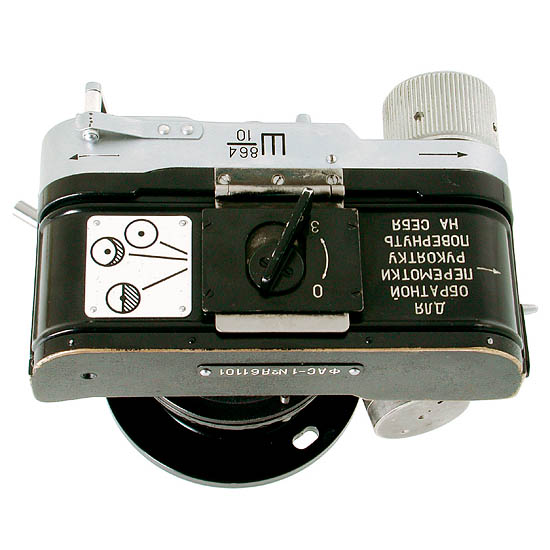 <![endif]>
<![if !vml]>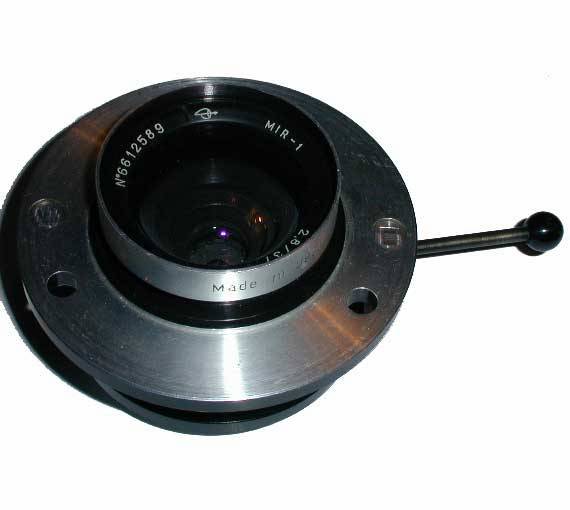 <![endif]>
Click your browser on

, or go back via internet to the main Oddity page, then select the next desired camera to view.